Last year, the IT developers witnessed many releases from the best of frameworks for development, thus last year came in bliss for the developers. But one of the releases that made news was Drupal 8, where Drupal Specialists and Drupal developers across the world were keenly awaiting the upgraded version of the framework.
But, then there are upgrades, and we are here to tell you about them so that you are always developing with the latest.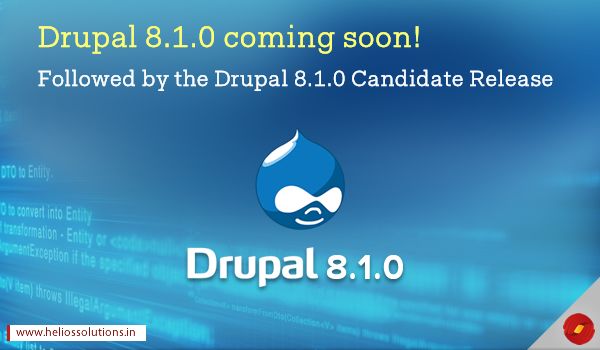 Drupal 8.1.0 – Beta 1
The upgrade is scheduled to release on the 2nd of March, 2016. This minor release will have Drupal 8.1.x enter a beta phase where developers and site owners can begin testing the beta. All those Drupal Site Owners, this can be a good time to consider upgrading your website to the new version and enjoy robust features by the framework.
What to expect?
The 8.2.x branch of cire will be crated and future feature and API additions will be targeted against the branch instead of 8.1.x
All outstanding issues filed against 8.1.x will be automatically migrated to 8.2.x once it is opened.
The beta phase will resolve core issues that will be committed according to the following policy:
Issues that are allowed for patch releases will be committed to all three minor branches (8.0.x, 8.1.x, and 8.2.x).
Issues specific to added 8.1.x functionality, or disruptive changes that have a positive impact outweighing their disruption, will be committed to both 8.1.x and 8.2.x. (Such issues can be moved back to the 8.1.x branch after the automatic migration.)
Most issues that are only allowed in minor releases will be committed to 8.2.x only.
 (Information Source: https://groups.drupal.org/ )
What does the Drupal 8.1.0 Release Candidate Version will have for you?
 According to the Drupal Group organization, the release is scheduled to happen on the 6th of April, 2016 with only critical fixes and few other limited changes (subject to release candidate restriction). It will be open to testing for developers.
 Guidelines:
The release from the 6th onwards will have a scheduled patch release window for 8.0.x and it will not receive further development and support after the release of that patch.
The final security release window is scheduled to happen on the 20th of April, 2016.
Developers and website owners must prepare for the release candidate.
 All the outstanding issues file against the 8.0.x will be automatically migrated to 8.1.x after the final 8.0.x patch release.
The future bug reports should be targeted against the 8.1.x branch.
The minor versions may include changes to user interfaces, translatable strings, themes, internal APIs like render arrays and controllers, etc.

8.2.x will remain open for new development during the 8.1.x release candidate phase.

Check out Drupal 8 backward compatibility: https://www.drupal.org/core/d8-bc-policy
A direct link to Bug Fixes: https://groups.drupal.org/node/508073
We have tried to cover all that you need to know about Drupal upgrade, considering the recent upgrade of Drupal 8, many websites developed on Drupal framework upgraded their website. Why? Simply because this upgrade had features that could not be said no to, check out what it's got for you: https://www.heliossolutions.co/blog/helios-is-ready-for-drupal-8-0/ , we are so geared up for this.  Also, many universities and educational institutes have developed websites with Drupal, learn why? https://www.heliossolutions.co/blog/educational-institutes-go-drupal-8/
If you are thinking about the upgrade, quit thinking, act now! Talk to the team of Drupal Development Experts at Helios Solutions – Your IT Outsourcing Partner India.