Building a business website nowadays has become quite essential. Now, to make a website you need a CMS (Content Management System).  There are many new platforms that are emerging every year, and because of that, sometimes it becomes quite difficult for you to make a decision on choosing the best web development tool that would meet your requirements and give you an edge over your competitors.
If you are someone who simply wants to set up a blog, or a portal that might help you maintain your web presence, or an eye catching eCommerce website, rest assure, there is a CMS out there that would suit your specific needs. Choosing the right CMS falls under your shelter and so it becomes important for you to have clarity on deciding the purpose of your website from the very beginning.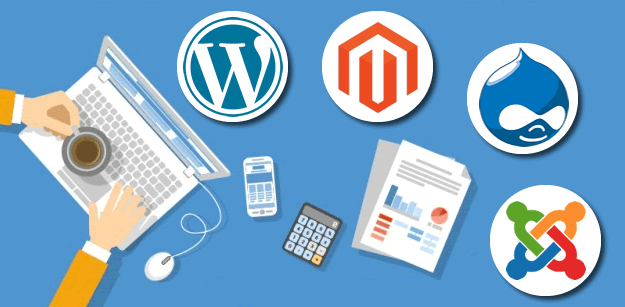 In this article, we will help you know about the best CMS that are available in the market and what they are providing with their latest versions.
WordPress
WordPress right now is at its pinnacle. It is an open source website development and management tool which is based on PHP. It has a large community of WordPress Development Experts also. Easy to say, it is the best content management system out there today and also the most powerful for blogging and website content management system. It has a whooping market share of 59%.
WordPress recently released the version 4.5 that add many new features for the web development:
WordPress version 4.5 is named "Coleman" and it has some enhanced and newly added properties that it tends to offer, such as:
Inline linking, shortcuts can be formatted and custom logos can also be added.
Images can be smartly re-sized, selective refresh, much improved embedded templates
JavaScript Library Updates
With that being said, if you are someone looking for a decent website for blogging or for eCommerce purpose that serves the highest quality, great support and also provide you with reliable security at the same time, then WordPress is the right choice for you.
Magento
Basically, Magento is an eCommerce platform that is built upon the open source technology. It provides online merchants with a very flexible shopping cart system. It also offers a powerful marketing, efficient SEO (Search Engine Optimisation) and catalogue-management tools. Magento is specifically made for the eCommerce store. The overall market share of Magento is 9.69%.
The Latest Features of Magento 2.1
It is quite fair to say that Magento is certainly more inclined towards eCommerce, so quite naturally the 2.1 update focuses mainly on eCommerce:
With PayPal enhancements you can save your credit/debit cards.
With the Braintree enhancements, it allows the merchants to qualify for the simplest set of the PCI compliance.
With the improvement in the management interface, Magento certainly has become much snappier and easier to search for the required information.
So, if you want to build an eCommerce store with payment systems that are well advanced in nature and loads properties much faster, our team of Magento Specialists will help you make one as Magento 2.1 is a great option you simply shouldn't overlook.
Drupal
This is basically a ready to use Content Management Software which is written in the PHP programming language. Drupal supports content management, newsletters, podcasts, and gallery for images, upload/download of files, peer to peer networking and many more.
The latest features of Drupal 8.1 for the Web Development
The latest version allows the developers to put control under the version control, also track changes and helps you update a production site cleanly.
Drupal Specialists and Developers will also be able to open the data as XML and JSON and also take the upper hand of the advanced web service.
The developers can also use numerous libraries like the PHPUnit, Composer, Zend Feed Component and many others.
So basically, if you are on a hunt for a website that is easy to build, with great support and easy to migrate, Drupal should be your preferred choice of web development tool.
Joomla
Well when it comes to Joomla, it is designed in such a way that it is very easy to install and set up. There are not many Web hosting services that offer a single-click install. With Joomla Development Experts you can make your site up and running within few minutes.
Basically, Joomla is quite easy to use for the designers or say the web developer, this helps your web developer to quickly build sites. It also helps you to easily manage your website over the course of time.
The latest features of Joomla 3.5 for web development
You can add images directly to the articles.
There is a new button added to the toolbar, so that you can get an easy access to the modules.

It also includes various counters in category view for your articles, the contacts you have, and the news feeds, which makes it quite easier to keep a track on them.
So, if you want to build a well optimized website that is filled with content and a bit of complicated, Joomla is what you need.
Well, to choose the right CMS is up to you as each and every CMS mentioned above has its fair share of advantages and some fewer drawbacks to carry.
Here at Helios Solutions, We have bunch of enthusiasts in above mentioned all four CMS tool for web development.  If you are someone looking to build a website on any of the mentioned platform, Helios can be your right partner because we believe in delivering only the best to our Clients.