The internet world is exploring new heights but users are still suffering with weak network connections and issues of Wifi Availability while outdoors. When it comes to connectivity, users are still very frustrated. Therefore, at least the website that they are browsing has to load faster.
Statistics say that a user will leave the website if the website does not load in less than 3 seconds. Now, imagine in this cutting edge, competitive virtual world, what are your chances? For this reason, you need to ensure that your users are not leaving the website.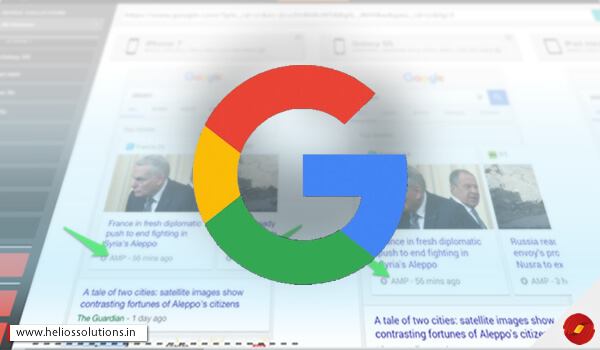 What is Google AMP?
It stands for Accelerated Mobile Pages (AMP) which is a project by Google. It is an open source standard for any publisher to have pages load faster on mobile devices. In the year 2016, Google officially integrated AMP listings into its mobile search results.
AMP CSS
AMP CSS comes with a function that contributes to the website speed. However, you cannot create animations and complicated transitions effects.
AMP HTML
This AMP offers customer properties for AMP framework where you can use AMP for HTML. AMP HTML focuses on removing of tags to bring more concentration on the performance improvements of the website.
AMP JS
AMP JS is a framework for JavaScript that manages all the resources and loading processes. All you have to do is plug a link to the JS file into the header of the website and your work is done. However, you cannot use a third party plugins.
See Also : Security Strategies To Protect Your Business From Cyber Attacks
AMP Cache
It is a CDN that can help your website performance by caching and delivering static resources on AMP enabled mobile pages.
A Few Statistics Say Why Google AMP – Is The Need of the Hour
There are nearly 2 billion smartphones users globally. Together, they consume more media on mobile devices than all desktop combined.
Nearly 75% of mobile users feel that mobile sites load more slowly than desktop sites. 46% of mobile users will also not come back to a site with poor performance.
One  second improvement in site performance leads to a 27% bump in conversion rates. (Info Source: clickx website)
The Effect of Google AMP on Your Website
Google AMP offers interactive and intuitive user experiences. It is changing the way users are interacting with the website. Also, it focuses on speed of the site in the search results. It is somewhere reflecting the future of mobile usage and the way publishers will design their websites.
Higher Engagement
AMP – Accelerated Mobile Pages, the accessibility for the user is faster. This is because it is a product by Google which is again supported by popular platforms like Pinterest, Twitter, LinkedIn etc. As the platform is being backed by such big sharing platforms, the AMPed pages will load on these platforms which will eventually lead to engagement of the users using these platforms.
Improved Ranking
Ranking on the search engines is one of the important factors for any website/ webshop today. For this reason, Google AMP comes with a carousel which displays on the top of the page. So when you conduct a search on your mobile device, there are few keywords that will show up on the top of the page. Having Google AMP integrated, offers improved ranking as these web pages are also highlighted in the general searches. For such integration, we recommend hiring a web development agency or a web development expert.
Ad Revenues will Increase
If your website is optimized for the mobile, scaling of mobile ads is generally an issue. When they scale well, these ads load slower due to many reasons leading to bad user experience. Ad visibility is still a challenge to overcome on a mobile website. According to a study by Adweek "Just  44% of mobile ads were viewable to users compared with 52% for desktops"
With the help of Google AMP, ads can be showcased faster. Google AdSense is expected to begin using AMP optimized ads very soon. Many companies are already working towards including AMP for the ads. So having AMP for your website makes sense, because in the long term the expected changes can add to the mobile ad revenue also.
Let Us Get AMP for Your Website
We strongly recommend having AMP optimized websites not only to stay on the top in the current times but also to be prepared for what is coming in the mobile-first generation. For more on the same, you can speak to our mobile development expert and understand how you can optimize your app for the app store using App Store Optimization. Moreover, Google AMP has become a standard because it is a product by the biggest search engine Google and thus it becomes important to prepare your website for the new revised standards.
If you have any website development related queries, you can get in touch with us. We would be happy to hear from you about your view on this topic. Contact us here: https://www.heliossolutions.co/connect-with-us/