Google has launched a new business friendly tool for the small business owners. The announcement was made on their "Google Small Business Blog". Google released a new landing page for the small business owners, to test their website performance on the mobile web (both smartphones and tablets) and see how mobile-friendly their websites really are.
Let us see, the individual aspects of this tool:
All the 3 scores (Mobile Friendliness, Mobile Speed and Desktop Speed) will be displayed in one single page
Google will also email you a detailed report (about the problems and fixes)that can be shared with your webmaster team.
A score from 0 to 100 will be given to you, based upon on how mobile-friendly your website really is;
What the Scores have to Say?
Mobile-Friendly:
When users are browsing your website on their smartphones and they have a very rich experience about it, you can say your website is Mobile-Friendly. Your site needs to have the important content highlighted up front and provide users with necessary button placements for easy navigation.
Mobile Speed:
Speed without a doubt is the most crucial aspect for any website. If customers are kept waiting for too long, they always have a choice of moving onto the next website. Your site needs to load faster on mobile devices, for keeping the customer engaged on your website.
Desktop Speed:
It determines how long your website usually takes to load on the desktop computers. Speed isn't only determined by the web connection of your customer but also the elements (that optimizes your web performance) inside your website.
Our Own Website's Results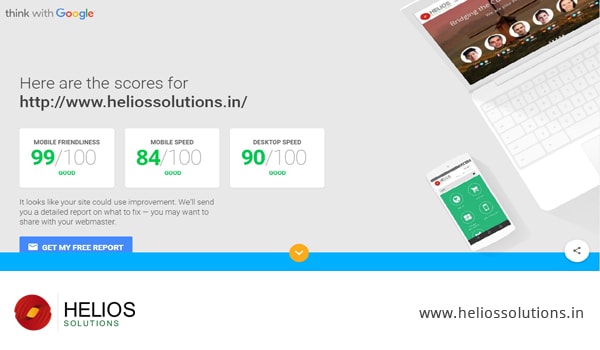 Helios Website Mobile Friendlyness Score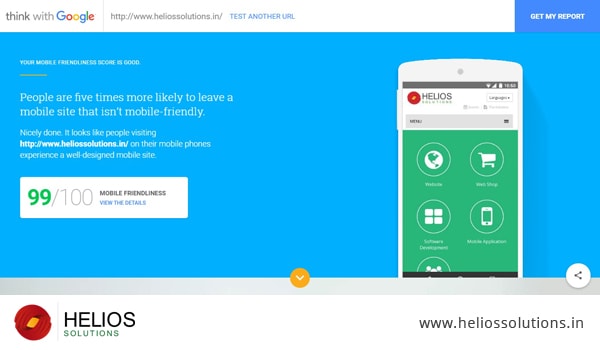 Helios Website Desktop Speed Score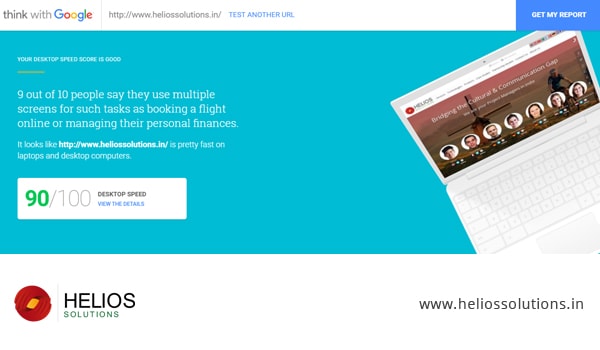 "The world's gone mobile. Now, it's your turn". If you have a Business and your website isn't mobile-friendly, we can help you out. Here at Helios Solutions we offer service of Responsive Website Development.