Recently Google came up with yet another interesting service for its followers, but this time it has something to do with travel. So all those interested in writing about their travel experiences or write reviews online for destinations, eateries and direction guides, they have something brilliant that Google has created for them. It is called TRIPS!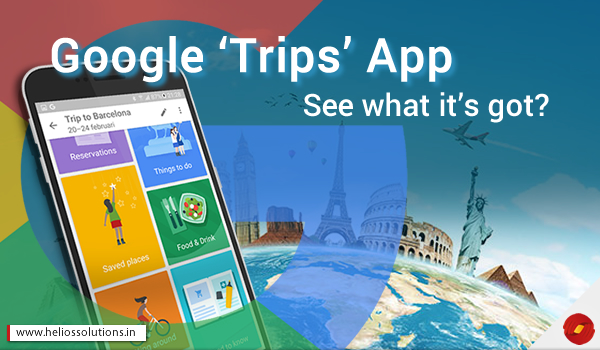 Also, Google now offers Google App for Local Guides https://www.google.com/local/guides/ It aims to create a global community of explorers sharing their discoveries on Google Maps. So while you travel, you can share your stories, recommend places and eateries or anything related to travel that can be shared on this platform. The Trips App although has made news among Android Development Specialists and Travellers of the world.
This platform introduced just two weeks has made much news among technology enthusiasts, Online Travel sites and also its competitors. The Trips App will let you do the following:
Record the Past Trip
Plan Upcoming Trip
Information on Flights, Hotels, Dining & Sightseeing
Works Offline
As interpreted from the website www.androidworld.com, the Google App for Local Guides looks really beautiful and colorful, It highlights the form and functionality of the app. The app will work offline without connection. It is being said that soon there will be many more feature introduced to the platform following the trends and the popularity of the platform. For the direction, it will use existing Google Maps App.
Trips App will use Google Now's ability to organize, plan and present travel information through integration of Google Calendar and Gmail. The searcengineland.com quoted Google saying "We love to travel and are hard at work dreaming up new ways to make the travel experience hassle-free. While we do that, sit tight and keep on using our amazing tools like Google Flights, Hotel Search and Destinations on Google to plan your next adventure".
Helios Take!
We think the TRIPS App is amazing as it offers a blend of all the present Google travel services where TRIPS will be using their best of capabilities of all the other Google Apps to give you the best of travel experiences where you're travelling will be absolutely hassle free.
Wish to make a travel App, talk to Mobile App Development Expert
Before this, Google came up with many services that were a breakthrough in providing travel related services but this undoubtedly proves to be one of the most remarkable and most useful of all the other Apps introduced earlier. If you used guidebook or TripIt, you will find some similarity from those apps in Google Trips App as it acts like a blend of both.
It will be unveiled for the masses to use and make their travel plans interesting and efficient. The app is being tested and will be available for Android and iOS. The company has not yet confirmed about the launch of the Trips App. So wait for it, stay tuned! We will be updating soon. Until then, dream of your next travel plan.