It is true that most of the times, developers are the ones creating the apps for the masses and there is not left much for their fun. For this reason, we conducted a research and collected a few Android Apps for those who develop apps! Now isn't that interesting? There are many Android Apps that will help Developers in some way or other.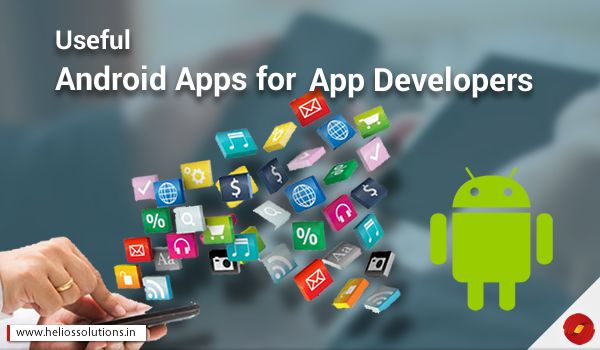 10 Android apps that developers will find useful –
1. DroidScript
DroidScript works amazing app for Android Developers. It is a Javascript based app development environment for better Android Development. Droid Script comes with an app development environment that provides with remote IDE over WiFi and also supports most device capabilities. The device capabilities include GPS, compass, camera and accelerometer native and HTML5 controls. The apps also interact with services to send and receive SMS, email and also let you create home page shortcuts.
Get the App: https://goo.gl/AzGIXY
2. Dalvik Explorer
Android Developers will feel blessed after having downloaded this Android Development App. The Dalvik Explorer is an app that can tell you the utility of your Android device where the TimeZones are available to your app on a specific device. It can also come handy for debugging problem users.
Get the App: https://goo.gl/jZwvF6
 3. Developer Tools
The developer initially created this app to make his Android Development task easier. As per his description at the app store, he later planned to avail the app for those developers thinking that it may prove useful for Android App Development Purposes. This app is amazing third party app as it avails many screen dimensions in dp, pt, in, sp, px and mm. You can directly go to device's developer setting and also directly see the list of installed applications. It works for Android 1.5 and the new versions and does not need any permissions to run.
Get the App: https://goo.gl/rM5asa
4. Algoid
Are you one of those developers who feels uneasy if a solution is not found while programming. Do you wish to carry it in the program and finish while on the go or when you think you have the solution for it. Then this Android App is going to come to your rescue. This app lets you learn Android Development with easy language and complete IDE. It is in fact the first language to process its own debugger and also step by step mode and scope explorer in real time.
Get the App: http://goo.gl/eEx1AS
Also read: https://www.heliossolutions.co/blog/designcss3html5/top-8-front-end-development-trends-developers/
5. TeamViewer for Remote Control
It is cross platform android development app that supports platforms like Windows, Mac OS, Linux, Chrome OS, iOS, Android, Windows App and BlackBerry. The app offers maximum compatibility with state of the art system software. It does not require any configuration and it is very easy to understand. It offers free testing with high performance and high security for development of Android Apps. It also avails integrated monitor checks, session recording and Terminal Server Support. This App is not something Android Development Specialists can miss!
What more? http://www.teamviewer.com/en/ 
6. Frink Programming Language
Frink for Android is available for free and for computers like Mac, Linux, Windows, so Android Developers can easily carry out Android Development with Frink Programming Language with real world sensors. It comes with interactive mode that performs powerful calculations and the programming mode allows saving, editing, writing and loading full-edged Frink programs. This brilliant app also provides with feature to create graphics, animations and also images.
To know more: https://futureboy.us/frinkdocs/android.html 
7.  DroidDia Prime
Thinking that if there was something that could let you create flow charts, Venn Diagrams, mind maps. It is specifically designed for Android Tablets and Phones. It makes development of very intricate apps very easy. The user interface is very simplified with drag and drop features making Android Development very easy. It supports JPEG and PNG bitmaps and lets you create custom image libraries.
Get the App: https://goo.gl/m9Ab2F
8. WiFi Analyzer
Want to know which WiFi networks are active around you? Then this app can help you. It will also show the strength of the signal and the channels of that available WiFi networks. It can aid in optimizing your channel assignment. This app is free from ads and other distractions thus giving a better user experience unlike other such apps available on the App Store.
Get the App: https://goo.gl/j7ybie
9. DrawExpress Diagram
When it comes to Android Development, the UI is also very important. Well, this app will give you all that you need for the UI Design for your Android App Development. The app recognizes UI from the sketched object on the app through the feature 'Gesture Recognition' instead of making you select the already available ones from the menus. This way your design is more customized and according to the need of the app theme and requirements. It is a very interesting diagramming application for creation of flowcharts, organizational charts, case diagrams, state diagrams, ER diagrams and much more.
Get the App: https://goo.gl/1N5as3 
10. WRPN 16c
This app uses Reverse Polish Notation (RPN) where it uses ENTER key instead of equals. It is best programmers calculator for a developers first attempt on Android App Development. It is also available as open source platform for development of Android Apps.
Get the App: https://goo.gl/Uwji3Y
Android Development Specialists
At Helios Solutions, we have developed more than (no. of projects) where our Mobile App Development Experts are constantly updating themselves with the knowledge and gaining expertise in the technologies and tools used for mobile app development. Fortunately, we don't consider this as just our profession but we have happen to love development, so if you wish to work with those who are passionate about development. Then fill this contact form:http://www.heliossolutions.in/contact-us/