Building Mobile Apps has certainly come a long way from a very tedious process of development with limited tools to now online development tools and easy deployment, where you can create basic business apps easily. Online tools has made building apps more accessible and easier for start-ups and business globally.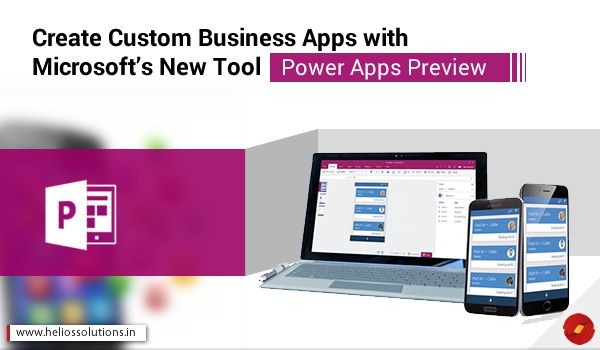 But also these tools offer you with limited features and probably low quality of app development. For this reason, a name like Microsoft has come to rescue. So Microsoft has introduced tools called Power Apps which is now available for Public Preview. With the help of Microsoft Power Apps, you can create basic Business Apps without having to write codes.
See Also : BUILD ENTERPRISE MOBILE APPS & UNDERSTAND HOW IT CAN BE MADE USE – WORTHY
In this blog, we have covered the features it offers and how it can be useful for your business where our mobile development experts highly recommend using Microsoft PowerApps, take a peek into what they have to say!
1. Drag & Drop
Using Power Apps allows simple dragging and dropping to create apps. This provision is for the laymen where they do not have to indulge in technicalities. It provides with pre-built templates that can be chosen according to the needs of your business where you can customize the features by adding Power Apps along with a robust online dashboard. So you have all that you need to create an app that indirectly benefiting your business. The apps can run on web and on mobile where Power Apps supports iOS and Android Platforms.
2. Enables Business Connections
When it comes to Business Apps, creating a network and keeping your connections in the loop is much important. If you are a businessman, you will understand the importance of connecting data sources. Microsoft Power Apps allows you to connect with data sources, tools and also third party tools like:
SharePoint Online
Salesforce
Dynamics CRM Online
Google Drive
Dropbox
Excel
OneDrive
Slack
Twitter
Office 365
Microsoft Azure
Custom APIs
Having these integrated in your mobile apps can help you enhance the use of your app where your accessibility to your business data is improved and faster thereby impacting your productivity. If you are using APIs that is not integrated to PowerApps then you can connect your app to RESTful APIs. As you see how convenient it gets, so use Microsoft Power Apps and make the most of it for your business. It's time your business has a mobile app
3. Easy Publish & Deployment
With the help of the visual designer, it becomes very easy to create designs, arrange elements and customize a fully functional app. The amazing part is that you build apps that use the device capabilities to the fullest. It also avails pen control, GPS, camera  and much more without coding. Once you done making the app for your business, all you need to do is publish it for the people! Here, you don't need to launch it at the App Store, ask Enterprise App Specialist for solutions who will help in making the most of those apps. You can create and publish Business Apps for Tablets, Laptops and Phones.
Features Offered
Cost Estimator
Create business proposals, calculate hours of work and also prepare reports and estimates directly with your app. It offers sample product catalogue and customizable costs, margins and discount fields.
Site Inspection
With the help of this feature, you can document, store, track and refer property site where you can include images, videos and other site details. This way your app avails capturing of data and storage of the same.
Budget Tracker
The challenge for any business is to track the costs and control expenses in order to work with the prepared budgets. This is the main benefit of having an enterprise application where you can track all budgets and expenses of your business. You get high transparency if you create apps with Microsoft Power Apps. So you can track your projects, the interactions, transactions with custom categories and easy data entry. With viewing graphing options, you can view all of it at once.
App Development Experts
It is true that building applications with Microsoft Power Apps is extremely easy. But in order to have extra features or some custom details for your apps, partnering with a mobile app development expert may come in bliss. This way you can make the most of the tool and also include features that the tool does not offer like bug fixes and support post development. As mentioned earlier, this tool offers a very basic set of functions that can give you a very basic business app. In order to make your app even more interesting and enhance the user experience, at competitive prices, it is best to Outsource Mobile App Development India.
To get in touch with our project manager, please click here: http://www.heliossolutions.in/contact-us/
Just fill in this form (Takes 3 mins) and our managers will immediately get back to you with our team of experts.