Google is all set to address the unique needs and workflows of your company with its new App Maker – a low code application development tool. It can be used for building custom enterprise applications tailored to your specific needs without heavy coding and within shorter timeframe. Now you can have apps developed for staff projects, approving employee leave requests, or onboarding new team members in a creative fashion and much more merely in few days rather than months. Let's get started: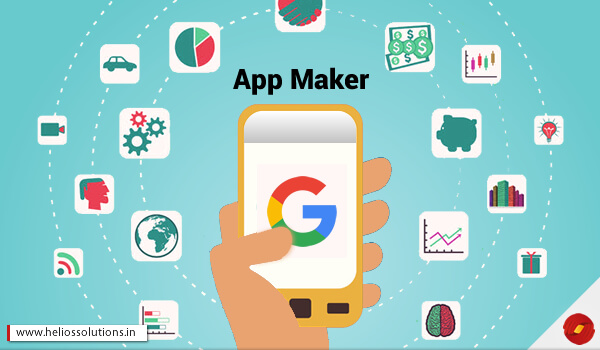 Move quickly from prototype to deployed app
App Maker is here to boost IT or citizen developers, including system administrators and analysts, who can promptly get to the deployed apps for their organizations by iterating a prototype. It will leverage the existing skills and knowledge of mobile app development experts to build apps in a swift development environment by utilizing Google's material design visual framework, and open and popular standards such as HTML, CSS and JavaScript. Built-in templates featured in robust cloud-based IDE, point-and-click data modeling as well as drag-and-drop UI come together in a package to accelerate your app development endeavours.
Build custom solutions for your business needs
With this new app development environment, you can build a wide range of applications tailored to meet the needs of your organization. It provides you with unique flexibility by connecting you to infinite range of data sources and APIs, e.g. built-in support for G Suite products as well as other popular services like Maps, Groups, Contacts, etc. It also enables to create more brilliant and richer app experiences by leveraging other Google Cloud services such as Directory API and Prediction API.
See Also : Guidelines For Enterprise Application Integration
Focus on delivery without worrying about infrastructure
By adding this new member to G Suite, Google has powered mobile app development agencies to safely deploy custom applications in the cloud without worrying about infrastructure. This is owing to the reason that App Maker is built on the same secure and trusted platform as other G suite apps such as Drive, Gmail and more. Otherwise mobile app development specialists need to ponder about capacity planning, servers, infrastructure security and monitoring which their organizational IT team has to facilitate before app delivery.
Final words!
So, you can see how Google has brought waves of excitement among mobile app development communities all around the globe. Our team of mobile app development experts is also looking forward to play around with this new App Maker. We are a Mobile Application Development Company working towards adding new dimensions to mobile app development. You can reach us with your queries. Stay tuned for more interesting reads on mobile app development.