Mobile is a fast-paced device that has revolutionized the way we consume information. Hence, businesses are also optimizing their customer engagement strategies to leverage the far-reaching benefits of mobile devices. To stay ahead of competition it is important for you to look into the near future and explore the emerging mobile commerce trends. We bring you five such advancements that will see greater adoption in 2017 and beyond.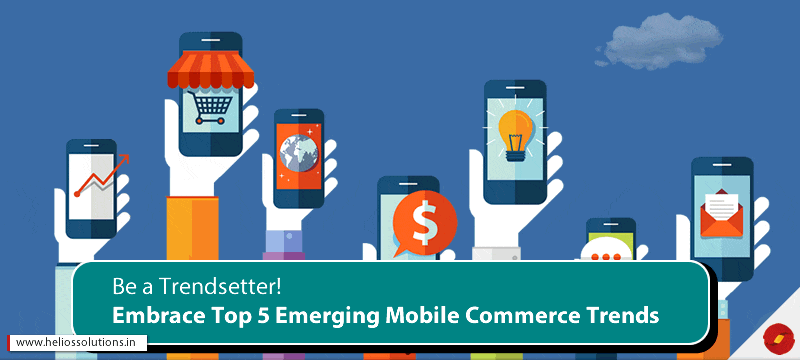 Window shopping with MIR apps 
As we enter 2017, more and more businesses will be investing in Mobile Image Recognition (MIR) technology to bridge the gap between real and virtual world in a snap. MIR driven apps would enable you to do window shopping in the virtual world. You can snap a product while you are on the go – on board a flight, in the street, at work or party, literally anywhere and feed that image in the MIR app. The app will then identify the product and flash offers from different retailers on your mobile screen. Then you can complete the purchase with one touch.
See Also : 5 New Driving Factors Of ECommerce Business
Augmented reality apps to increase
It is predicted that more numbers of business owners would be using mobile apps integrated with augmented reality features to provide mobile shoppers with interactive and immersive experience. You can enable your customers to virtually try your products on their mobile screens before they make a purchase. Therefore, consult mobile app development specialists to develop interactive mobile app and leverage this technology to boost your sales.
NFC-enabled payment to rise
In 2017, it is estimated that more number of consumers will simply wave their mobile phone synced with bank cards on the payment terminals to make payments. As Near Field Communication (NFC) technology permits easy peer-to-peer sharing of files and transfer of mobile payments, online shoppers would tap their NFC-enabled bank cards to complete the checkout process. As a result, the checkout process would be faster, smoother and render seamless user experience.
Video content to be in the spotlight
Cisco's report projects that more than 80 percent of internet traffic would comprise of video content by the year 2020. E-commerce owners would utilize videos for advertisements, product descriptions, customer service and testimonials. 2017 will witness a paradigm shift of video content marketing endeavours to mobile devices. This will be catalyzed by the easier and faster consumption of rich media content by mobile users facilitated by faster internet broadband such as 4G LTE.
Personalized e-commerce experience to rule
Businesses are aiming to take user experience to a higher level by investing in mobile apps with in-store personalization. You can guide your customers to your products or services as well as your store via the in-store map or store locator guides. Then you can send push notifications to flash your customer's screen with customized offers and deals followed by tailored suggestions based on past purchase or search history. At your brick and mortar store you can give your customers personalized shopping experience with the help of Bluetooth powered beacons, right from the moment they enter the store.
By investing in the above mentioned upcoming m-commerce trends you can make a smart move to get a competitive advantage. Contact Helios Solutions with your ideas and talk with our adroit team of mobile app development specialists for estimate and analysis. Helios Solutions is a leading Mobile App Development Company in India.
If you are looking to integrate these tools in the backend of your eCommerce platform, all you need to do is talk to our eCommerce development specialist. We shall offer the best of eCommerce solutions for your business.