Looking into the sudden increase in need for mobile apps, it is becoming a challenge to make apps are efficiently developed at cost effective budgets. There are so many applications launched just every day, but only those work that are user friendly.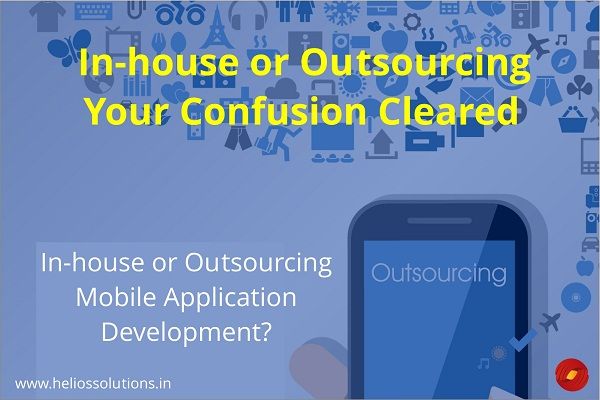 Choosing the right app development partner is very crucial. It is important to make have development fueled with innovations, forward thinking and effective brainstorming. At Helios, we ensure a process of development that is not confined to the project requirements but we take this process beyond by also trying new technologies.
See Also : HOW TO FIGHT ENTERPRISE MOBILITY CHALLENGES?
To make this process simpler for you, here we have listed out a few challenges that one has to struggle with when it comes to development with in-house resources.
In-House Mobile App Development Challenges:
Resources & Skills
Having the right skill set is the challenge. When you get stuff done in-house, it is difficult to get qualitative results with limited resources especially in the case of development. Developing in-house will limit your innovation scope where according to a survey conducted, 94% of organizations do not have the necessary mobile development staff to tackle all of their needs.
iOS development require different and fairly complicated coding languages – Objective C or Swift for iOS. The average Android developer can't just switch over to coding or iOS without training.
What are the ways of making these applications more effective and efficient?
Time & Budget Constraints
Why do most business outsource mobile development to save on costs of development and also make the most of the development options available. With development in-house uses the resources of the business are engaged in one task for a long period affecting the business efficiency. Thus, a lot of time is being consumed in a project.
Especially for businesses that have just started (We are talking about the 'Start –Up's). The blogs about 'how to' and 'what for' for the start up's are endless. Along with the time, the budget is another aspect that needs to be brought under consideration. Many businesses face this struggle where it is difficult to keep up with the investments for development.
Although with new tools for app development, things are still possible. But fortunately, you have us the IT partners who will take care of the development process so you don't have to learn the tedious coding process and much more.
Scope Expansion
While the development process, if you decide to expand the scope of your app development. Then in that case, you will need to expand your team. Also, if you expand the team, the main challenge to add someone new to already established development process.
This way the development process becomes very distracted resulting in sometimes increase of the time span. Also, sometimes it may be difficult to identify the developer with the capability for such development as there are developers for native technologies and there are developers for hybrid models.
Benefits of Outsourcing Mobile App Development
Time Zone Perks
With development happening in country like India, the time zone is well working in your advantage. So while you are resting or preparing for the next day, we are working on your project. Thus, meeting deadlines and the work process becomes much more efficient and smooth.
Saves Time & Money
The biggest advantage of Outsourcing Mobile Development India is that it is highly cost effective. Also, this does not mean that there is compromise in the quality. It offers robust solutions for big brands across the globe.
Data Mining
Although data mining is a new term but technology has always been there. It becomes important for businesses to understand that data mining is as important as the development option you prefer. Data mining helps in decision making processes and also aids in acquiring knowledge regarding the subject.
Support from Native Government
One of the ignored advantages of outsourcing in context of selected countries is the government support. There are so many perks and subsidies for outsourcing projects in order to encourage collaborations between continents and partner beyond boundary limitations.
Outsourcing Mobile Application Development with Helios Solutions
More than 14 years of experience in consulting, developing and supporting high quality software, websites and mobile applications.
10 years of experience in working with the European continent.
50+ Projects successfully executed in mobile app development.
We offer mobile development for iPhone (iOS), Android, Window Mobile, Phone Gap and Sencha Touch technologies
Mobile app development is more of a tabloid than a piece of information that helps us in making a very important decision.
Rely on us and free yourself from all the hassles of in-house development for mobile apps. We are experts because we are experienced. Bringing years of experience for collaboration wit you – Helios Solutions. To get a quote, talk to us now: https://www.heliossolutions.co/connect-with-us/ and let us help you develop a solution for your mobile application.