Mobile App Development, a process that has changed the dimensions of development in Information and Technology. It is slowly becoming the 'Need of Businesses' where most of the effluent companies are sure incorporating a mobile app strategy in their yearly budgets.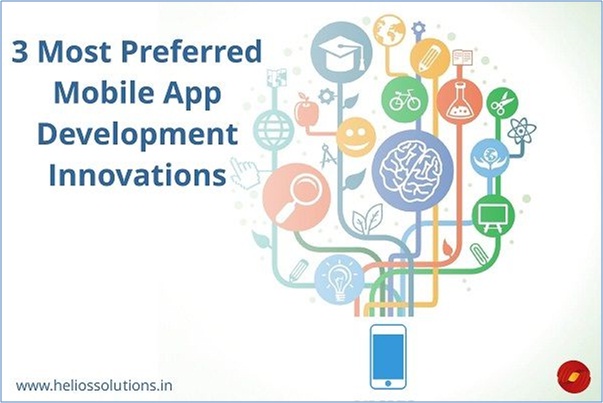 So what is exactly that you need to create the right strategy for enterprise mobility? Many wonder and some ponder! We will be telling you the 3 main innovations that you need to include for an effective mobile app strategy. These innovations are reaching new heights as developers across the globe are constantly improving on building such mobile applications. These are not trends of any kind; these are innovations that are here to stay here!
See Also : IN-HOUSE OR OUTSOURCING MOBILE APPLICATION DEVELOPMENT? YOUR CONFUSION CLEARED!
3 Most Amazing Innovations for Mobile App Strategy:
1. A Real Life Experience – 3D Touch Feature
It is a hardware based feature. Through this feature, the smart phone is enabled with the capability of learning and perceiving the amount of pressure a user puts on the touch screen. This movement causes activation of different functions.
This feature was first introduced in Apple's iPhone 6 and iPhone 6S. This has changed the way mobile apps were being developed till date. Thus, we are very close to a time where 3D touch will be the integral part of most of the mobile applications. It allows functions with a slight pressure. This innovation is made from the perspective of providing a more real life experience. The next iPhone will include the second generation 3D technology.
2. Payments go Mobile – Mobile Payments
Gone are the days when you swiped cards for each and every purchase. There is something even more convenient. Now, you can help your users shop or conduct transactions easily. Mobile payments let you make payments from your phone just with few clicks.
It is slowly gaining importance among users and a place in the market. Therefore, it is wise to consider a payment gateway while making a strategy for your mobile application. With the increasing number of eCommerce businesses, the need to have payment gateways is increasing and it is becoming one of the innovations which is most used application by users globally.
3. Understanding Behavior through Sense – Gesture Control
Now mobile technology can study and analyze your behavior to work with you to suit your needs and avail you with better security. Biggies like Google are introducing a technology that will enable hands free payment option through voice commands and voice recognition tools. An innovation that will need your users just to talk!
Mobile payments can help your users pay easily from their phones while on the go or even at your store. It is good way to get payments to free your users from the hassle of standing in long queues. With the Internet of Things, we see this trend flourishing more with wearable technology. Restaurants, Super Markets and other such businesses are slowly adopting this feature for their mobile applications.
It's Time! Have a Mobile Application
Above mentioned points are the current methods that IT consultants and professionals are suggesting every kind of organization or business. Accounting these three features as a part of the plan can result in a development that will work in the best interest of your business or organization where you will be prepared to meet long term needs.
Fortunately, you do not have to train your team for this new development. Outsourcing this development will be more cost friendly and will give qualitative results as you get your solutions for mobile app development experts. We bring experience in collaboration for outsourcing providing the most robust solutions in the stipulated amount of time. To see how we can collaborate for mobile app development, you can TALK TO US https://www.heliossolutions.co/connect-with-us/