When you are an entrepreneur, you have to think in a holistic manner, from customer's shoes and also from your business point of view. Here, businesses globally are resorting to new techniques in order to please their target audience and enhance their experience with their brand. Events today are playing a very big role in creating a brand value and also bringing communities and people together leading to increase in efficient globalization.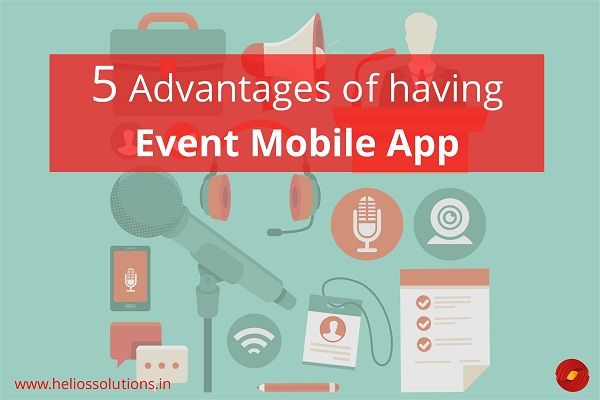 These days, with innovations like mobile apps, IoT, Virtual Reality, the way events are conducted has entirely changed.  You name it and a mobile app can be created to enhance the experience of the visitors.
5 Advantages of Mobile App in Events
1. Enhance Networking Experiences
Professionals see events as an opportunity to network in which case having a mobile application can do the needful for them.  Networking with people, attending the event can be easier as they can communicate, share and give opinions while on the go and accordingly venture in business or create a new network. A social app is a powerful way to connect people and businesses at events. Features like push notifications, event location map, last minute changes or any other announcements, social media channel integration for sharing updates are a good way to drive engagement.
This proves highly useful for large scale business events where there are many topics being covered. And thus, a mobile application can provide with focused group discussion and can become an online platform for collaboration of any kind. Also, it avails much convenience where it can replace the use of paper where participants can circulate information through the mobile app. This way your event becomes an environment friendly engagement where you give the visitors a more customized experience of interaction and engagement.
Feature for Enhancing Networking Experiences:
Push Notifications
Last Minute Changes or Announcements
Navigation at the Event Location
Social Media Integration for sharing updates or location check-ins
Integration of Payment Gateways of merchandise shopping
Live streaming of parallel going events
2. Drive Pre – Event Engagement
There are so many things in the course of pre event engagement causing an overall effect on the event outcome. However, when it comes to events, bookings and registrations can be a hassle where collection of data can also be juggle. For this, online registration works wonder but what works even better are mobile apps where you can also send the details of the event, directions and modes of transportation. Ask your mobile app development expert to comprehend the features for such development.
Features for Engagement
Social Media Integration – Updates & Event News Sharing
Send Schedules & Registration Details
Coupons, Discount Codes or QR Codes
Alerts for any changes in the schedule
Showcase of Services to avail
Stay & Transport Bookings
Tourist Spots & Shopping Information
You can send updates about the event and even behind the stage scenes or the making of the event. These kinds of updates keep the excitement level high until the event starts. It also offer data collection of those registered and thus you can suggest those programs or activities to do according to their preferences. Also, incorporating advertisements on the mobile app like tourist destinations, restaurants to visit or shopping information can result in earning through push notifications or pop-up's on the app. For yearly events, you can add other features for too.
3. Track Analytics
Collecting feedbacks is one of the most challenging jobs. To avail analytic's that will help you with collection of data that can be useful to enhance visitors experience for the next time. To track analytic's with a mobile app becomes much easier where you can get all kinds of analytic's if your development partner is able to provide you with those features.
Kind of Analytic's
Total number of visitors (country, interest, age and designation)
Data on Feedbacks
Reviews
Traffic Areas & Subject Popularity
To identify the Gaps
4. Drive Interaction
A mobile app can be very useful to drive interaction among visitors or to make the event more interesting through sessions of interaction or fun gamification techniques in the application. With big events, the challenge is to bring all of them together for one activity. It would be great if all you could conduct interactive games or activities online. This is where a mobile application can do the needful for you.
Ways of Interaction
Questions & Answer Rounds
Debates
Group Discussions
Polling
Games & Contests
Also, the convenience for the employees increases. This enables customers with the knowledge of access to the information sources in the event environment. Include a mobile app in your strategy for the upcoming event and make your event the most interesting one!
5. Create Opportunities for Sponsorships 
Event is an opportunity for networking where the purpose is to look for business opportunities, establish and improve business relationships or engage in interactions from those you can expect business. An event becomes a perfect opportunity to indulge in any of the above mentioned aspects. The biggest perk of having a mobile app is that you can avail the participants with windows for getting sponsorships or participants can be a part of some business by sponsoring them. Creation of lists availing details of businesses looking for sponsors or those looking to invest could be great idea to create a platform and make the most of any event. This could later act like an attraction to draw more audience for your events.
Many such business events also make use of gadgets or a personalized technology to give customized experience. For instance, the Facebook event had the set-up of witnessing presentations through VR sets/ 3D glasses resulting in enhanced user experience. Well, that may be a little too far-fetched but those times are not too far! Technology and innovations are taking all user experiences to another level, thus it is important for us to be prepared to head towards a direction that creates a brand image.
Getting to the Point
Next when you plan to have an event, you should most definetly consider having a mobile application. It is not necessary to give it all that is mentioned above, the approach could change and so can the features catering to that approach where a budgetary solution can also be developed. To have a consultancy approach towards an event mobile app, talk to our experts and they will suggest the required features for the mobile app that your event might need or can have.
We are Outsourcing IT Company India coming with an experience of consulting, developing and supporting such mobile app for events where we have executed many native and hybrid applications for kinds of event business or leisure. For more information or project stories https://www.heliossolutions.co/casestudy/, please get in touch: https://www.heliossolutions.co/connect-with-us/