Showcasing what your client or customer has to say about you? This plugin might just do the needful for you. If you are wondering how to impress your website visitors? Or you wish to incorporate an interesting way to showcase your testimonials. Then, you have landed on the right page. Helios Solutions, your End to End Software Solutions Partner now offers you with a free WordPress Plugin for integrating a testimonial plugin for your website to impress your visitors.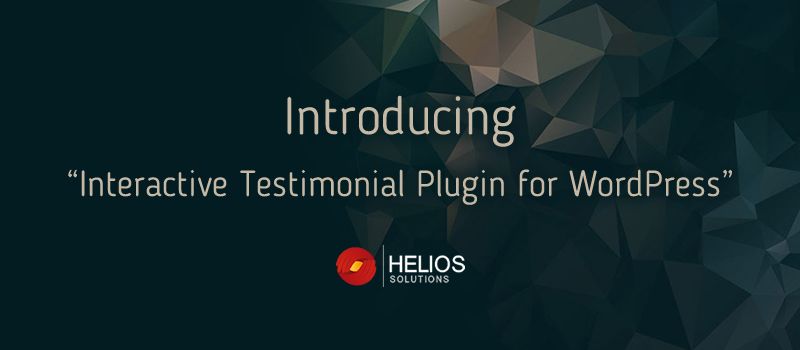 A Custom WordPress Plug In for Interactive & Engaging Testimonial Showcase!
WordPress is among the most chosen plugin for websites worldwide. Today, more than 25% of Internet is powered by WordPress alone. WordPress is an open source project and it is being constantly improved by WordPress development experts globally as a contribution to the framework. This also means that you don't have to pay to use it.
WordPress became popular as a blogging system and gradually evolved as a full content management system which is now being supported by thousands of plugins and we have also contributed as WordPress Development Specialists to the WordPress Community. This Plugin is also a part of our contribution.
What the Testimonial Plugin Can do for you?
Testimonials, Reviews and Experiences sharing act in the interest of your branding and customer/ client engagement and brand promotion. They can be a key content element in your website. And with the help of WordPress, it is extremely easy to integrate them as well. It offers the readers and visitors with unbiased view of your brand and sends across a more genuine image of your brand.
The testimonial plugin created by Helios Solutions is a compelling plugin to showcase your testimonials in your website. It comes with a visual composer Add On offering several features:
Features of the Plugin
Predefined Responsive Themes
Grid Listing
Slider Function
Show/ Hide Details
Edit Chronology
Outputting List of Testimonials
Ability to Multiple Testimonial Themes on Same Page
Display Testimonial with Ratings
Easy to Use Interface – Manage, Edit, Create and Delete Testimonials
By integrating such a plugin, you can promote your business positively by incorporating quotes and bytes from your clients and customers. And because you are using WordPress, it is a lot easier. It has been built by the WordPress Development Experts at Helios Solutions as a part of contribution to the WordPress community and in order to enable businesses and people using wordpress with an effective testimonial plugin.
Sound more genuine and please your target audience by showcasing what your audience has to say about you! Interactive Testimonial Showcase Plugin offers the simple yet interactive way of adding customer/ client testimonials to your WordPress website.
If you wish to get a customized plugin for your specific requirements, get in touch with our web development experts and get a plugins specifically made just for your business website. Take a look at the platter of CMS based technologies that we offer!
You can see our New WordPress Testimonial Plugin here: https://wordpress.org/support/plugin/interactive-testimonial-showcase-visual-composer-addon/reviews and get your plugin now! Install and impress your audience.