E-commerce has been growing at a phenomenal rate worldwide and it has revolutionized the way businesses are conducted. It is believed that you can connect with your audience in a better and enhanced manner with online platform and initiatives. Research reveals that three out of four smartphone users contact a business they found on their phone and it is a very compelling reason for businesses to have a web presence in order to increase their visibility.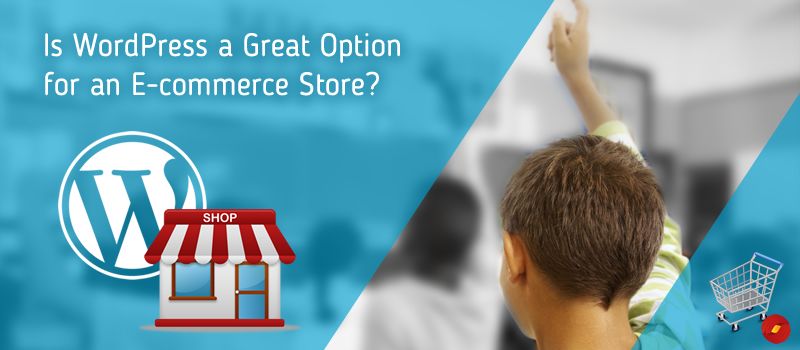 WordPress is by far the best content management system as per the stats; it holds the largest pie in terms of market share that is 58.7 percent. And its e-commerce extension WooCommerce also boasts of 25 percent of all the websites worldwide. It is obvious as there are lots of WordPress users who have online shops and WooCommerce is an ideal solution for them. Before choosing any platform for your business, the first thing you need to do is assess your business needs and then evaluate the platforms; which one aligns better with your business needs, e-commerce objectives and strategy.
Benefits of using WordPress
You can run a multi-purpose site on WordPress, for instance, you can use it as a blogging platform, corporate pages or portfolios and extend it to an e-commerce website by integrating its e-commerce plugin, WooCommerce. Thus, it allows you to have complete authority and total control over your e-store, unlike any other e-commerce platforms. It lets you add infinite products and product attributes to your site. Moreover, it enables you to take feedbacks of your products from your customers by allowing them to give ratings and reviews. WooCommerce comes as a bonus to WordPress users and can be managed well without any coding skill. However, once your business is expanding you can get in touch with us, a WordPress Specialist Agency and take our service to scale your e-commerce website and successfully meet with your growing business needs.
See Also : Your Path To Success Begins With WordPress (Infographic) By Helios
Limitations of WordPress
In spite of being a great option to create multipurpose website, WordPress is not the right option if you want to build an enterprise level e-commerce website. For that you must reach out to our team of e-commerce development specialists and choose Magento, a stand-alone e-commerce platform, built for handling complex e-commerce needs. However, if you are a startup, there is no better option than WooCommerce for you. As your business grows you can opt for some premium plugins and move beyond the limitations and open doors to endless possibilities.
We are an E-commerce Development Agency, catering to the online needs of businesses for more than ten years; assisting our clients to increase their visibility and make a profitable web presence.