iPhone Users are feeling blessed with the new updates – iOS 10 by Apple on the 13th September, 2016. It has been only two days and the Internet is bombarded with iOS review. Yes, of course! After all it is about the most popular operating system for smart phones. There was much buzz created before the release. But, since it is out now, let us hear it from the iOS development experts, what they have to say about iOS 10.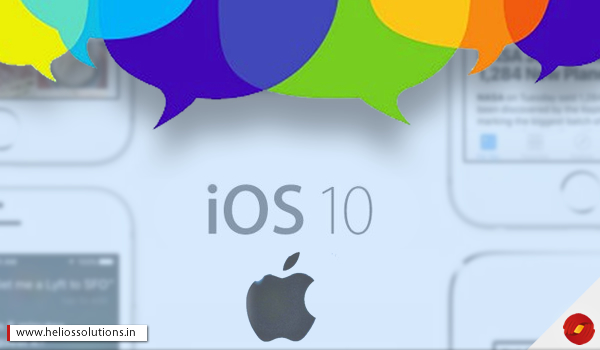 Our developers have been using the iOS 10 since its beta version to gain better understanding of the operating system.
If you are an iPhone user, we are sure you must be eagerly awaiting the release of iOS 10. Users using iPhone 5 or a version above can install the latest version. And those who have iPad 4 or version above, can also install the update. All you have to do is follow these steps:
Settings > General > Software Update
And those who are looking forward to get an iPhone or iPad, then iPhone7 and 7Plus will come with iOS 10 pre –installed.
iOS 10
The new version has many new things for its user which includes mostly redesigned in-built apps. According to the iOS development specialists at Helios, the iOS will be offering an improved control to the users. It happens to go sale in the same boat but the course has changed to a certain extent.
Explore the New Features:
The New LockScreen
Yes, with this update, you have new lockscreen which is going to your experience while using the Apple device. It looks the same but what has changed, they have added the following:
See Also : Build Enterprise Mobile Apps & Understand How It Can Be Made Use – Worthy
Two New Screens
A Widgets Page: View widgets by swiping left to right on the lock screen. The widgets give an expanding and contracting function where you can see more and see less as you prefer. You can also edit in the widgets for your convenience. Tap edit and scroll through your options.
A Camera Page: For the camera, swipe from the right of the screen! It will let you take a picture or take video quickly. It is right there. You don't have to swipe from the bottom anymore. It's faster now!
These new features will improve your accessibility to the very important things in your device. Gone are the days when you have to slide to unlock the screen, Apple takes smartphone experience to one level further allowing users to unlock their phones just by pressing the home button and bang your phone is unlocked.
Raise it & Bring it Alive
This is one of the most interesting features in the iOS update. If your phone is sleeping, then you don't have to press a button or touch, all you have to do is lift the phone and it wakes up! Yes, looking at notification became easier. It is being called the 'Raise to Wake' feature.
The feature is available for iPhone 6S, 6S Plus, iPhone S, iPhone 7 & 7 Plus
You might take some time to get used to it because your habit might make you press the home button immediately but soon enough you will be habituated to it. The Touch ID is also faster now and you can see your notification and widgets faster, just wait for your device to wake up. If you wish to save your battery, then you can also turn off this feature with the following steps:
Settings App > Display & Brightness Tab > Raise & Wake > Turn Off
The New Message App
This update brings a new app for messaging. It is pretty interesting to see how Apple did not overlook the importance of traditional methods of communication. They have intact made it with all their hearts. The new app offers interesting features like these:
Tap Back: Reply instantly to your message with the help of this feature. You have to press the chat bubble and send any six given options like thumbs up or a heart. This way at least your opposite person receives something quickly and you can take the time to respond in a detailed manner later. This works for the times you are busy.
Message Bubble: You can make the message bubble size bigger or smaller. Compose the text and 3D Touch to make the bubble effects on the screen. Amazing isn't it! You can add many animated effects.
Handwritten Notes: This feature makes your messaging experience a bit more personalized. You can send text using the invisible ink and receive an invisible message. All you have to do, is swipe over to see the message.
The Fun Stuff
You can find new stickers, third party add on, and Gifs. You can also send money via Square, share updates and news about sports scores, play games while you are in the Message App.
Improvement in Notifications
The iOS 10 will be offering rich notification system. The latest update offers improved and powerful 3D Touch which will let you reply to message, preview web pages and also view photos directly from the notification page. The interaction is better as with hard press, you get a pop up which lets you function without leaving what you were doing.
Siri gets Interesting
In the latest version, Apple made Siri a bit more interesting. She is more accessible now. Apple has always got surprises for us and this time they have added a Siri API for the third party apps. Now, Siri can do much more for you. You can book your cab or ask her to check your social media networks. There is much more to Siri now.
For the record, Siri already had third party plugins but they were limited but with the new function introduced in Siri, she is much more efficient Personal Assistant.
Apple Apps
Apple Music
Yes, Apple Music is very important to many of us. But the app user experience was always a little complicated unless you have used it often, it looked like tedious process. With this update, the App becomes much more convenient to use. The UI design has been tweaked to offer better user experience. The design now focuses on the album art along with new features like bolder text to the screen. And what more? There is a new lyrics feature, so your karaoke nights can now be happening with the new Apple Music App. Indeed buying a new Apple Phone or iPad will be an investment geeks!
Apple Maps
Just like Siri, Apple has loosed its grip a little. They have now opened the Apple Maps for the third party plugins making Map services better for the users. With the help of the Apple Maps API, you can do other task while you are on the app. The feature 'Open Table' lets you book reservation with hotels and restaurants, book a cab or buy tickets. Moreover, there are recommendation and suggestions in tandem with your preferences. You can plan errands and search for shops, gas stations or cafes near you. It is a lot better and exciting to use Apple Maps now!
Apple News
Among the redesign in the already existing apps, there is a revamp in the Apple News App. It is an all new experience for the users. The new features like bigger pictures and bolder text making the visibility and readability better. The app is easier to use giving you access to things or topics that matter to you.
Photos & Video
The update offers an improved photos app for you. It will take the photos automatically to the albums considering three factors:
Facial Aspects

Object Recognition
Scene Recognition
Raw Footage Feature
With the feature, Apple takes Photography experience to a more elaborate level. It is a blessing under disguise for Photographers and Videographers. It will be offering DSLR quality with the additional function of RAW image capture. So all your photographers go ahead and take the RAW files, as now your camera sensor can shoot in RAW mode. Go Raw, Go Huge!
Last Words!
It is indeed great what this update has to offer. But from a development perspective, all the new apps made in iOS will now be able to reap the benefits of third party plugins integrated in the Apple Apps. Investing in an iPhone 7 looks like a great idea.
We have covered the features that make a difference to you. If you have query in looking for any settings or need more in-depth understanding on the new version – iOS 10, you can always get in touch with our mobile development experts. We hope this was useful read and fed your curiosity about the iOS 10 Update by Apple.