This time of the year, IT business owners are planning their calendar for the yearly activities through forecast and listing down important events in the year. We are sure this includes your meeting, business trips and of course the important conference happening across the globe. To help you out, we are listing down a few important events for Cloud computing this year that must consider attending.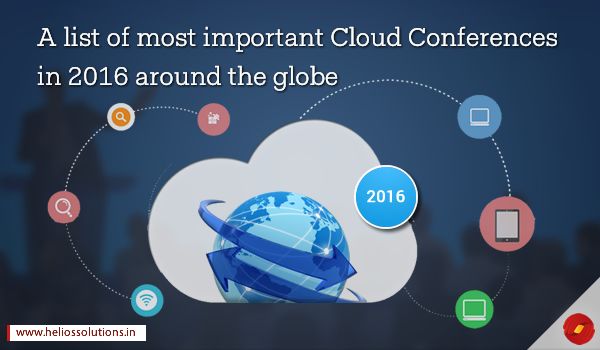 Since the rise in outsourcing projects, it becomes important for IT businesses to be a part of such programs in order to gain deeper insights of the current trends and enhance knowledge in the field. This also becomes a very good platform for networking in the respective field.
See Also : WHY BUSINESSES ARE MOVING TOWARDS HYBRID CLOUD COMPUTING
Why are we listing the important Cloud Conferences?
This is because Cloud Computing is the next big thing in the IT world. Every business set-up today is looking forward to integrate cloud based system in their IT structure. Also, not just from a business perspective, but these conferences have discussions entailing the topic information and what you can expect from this kind of technology solution. This makes you prepared for what may be coming towards you!
Moreover, learning about Cloud Computing is important as it is in demand and the need for it is growing with the passage of time. Understand more about cloud computing by reading this amazing blog by our cloud computing expert at Helios Solutions: https://www.heliossolutions.co/blog/tech-news/helios-recommends-cloud-computing-start-ups/
Top Cloud Computing Conferences in 2016
Google Cloud NEXT
This has to go by default in your list too. The conference will discuss the solutions on Google's cloud platform for cloud computing where the major highlight is said to be Diane Greene – The New Head of Google's  Cloud Operations, delivering a keynote which will also be her first appearance since her entry in the company. The conference will also feature key note  speeches, technical sessions and solutions for the platform. For detailed information, here is your direct link to their website: https://cloudplatformonline.com/NEXT2016.html
Where is it – San Franciso
When is it – 23rd & 24th March, 2016
 IBM InterConnect
Known as the premium cloud and mobile conference is something all IT professionals and major businesses are looking forward to attend. The conference is said to offer technical sessions for people for the technical backgrounds and businesses. It will highlight their design for cloud computing solutions where you will also encounter hand-on lab session, workshops and many networking opportunities. And IBM known for its interesting conferences will feature performances by Elton John and PitBull for your entertainment. Register for the event now!
To know the ciricullum of the conference, visit this link: http://www.ibm.com/cloud-computing/us/en/interconnect/
Where is it – Las Vegas
When is it – 21st & 25th February, 2016
Microsoft Build
This conference is more for the developers then for businesses. It is centered towards enabling developers to work as businesses in order to transform in support of the shift to a cloud –first, mobile firs world. The conference this year will be presenting latest tools and technologies and also explain how it can benefit developers in the most productive way. Microsoft has four major conferences to be held in this year other then this one. This is your link to see the interesting line up of these conferences: http://blogs.microsoft.com/blog/2015/10/14/microsofts-2016-event-lineup/
Although the official build website shows they are sold out, but you still have hope to get in with the waiting list. To register for the event, click on the link here: http://build.microsoft.com/
Where is it – San Francisco
When is it – 30th March to 1st April, 2016
451 Research Cloud Computing Executive Summit
A leading firm called 451 conducts an annual summit focused on cloud computing which includes best practices , user stories and networking at this respective conference. It has gained popularity among IT professionals since its release. This conference is focused on Uberification – Cloud as an agent for digital transformation. It will examine the role of Cloud transformation along with information on its availability in the market and how it is being used to inform Digital Transformation. Check out what will be happening at the summit, for the schedule: https://451research.com/events
Where is it – New York City
When is it – 8th March, 2016
IEEE International Conference on Cloud Engineering (IC2E)2016
It is one of the leading engineering organization (Institute of Electrical and Electronic Engineers) conducts a summit in order to share the latest cutting edge research across a variety of topics. It is also hosting a big data security conference this year which will discuss a track on hosting and securing big data in the cloud – visit: http://csis.pace.edu/BigDataSecurity/BigDataSecurity2016/ for more information on the conference.
Here is your link to the schedule: http://conferences.computer.org/IC2E/2016/
Where is it – Berlin, Germany
When is it – 4th April to 8th April, 2016
Cloud Connect/ Interop
This is worth attending! Known as the premier in networking events, they are focused specifically on cloud computing technology where the discussions in this summit will include implementation stories, presentations by vendors and other key note speeches. It is proving to be the most interesting conference for innovative startups and IT organizations. , click here and register now.
Where is it – Las Vegas
When is it – 2ndto 6th May, 2016
Cloud Foundry Summit
If you keen on learning about cloud computing, then this summit will give you all the information you need to know about cloud computing. Cloud Foundry is also one of the leading open source platforms as a service. It will be contributing to the project, deployment of software services and operations of platforms. Also, at the summit you will get to hear the success stories of different businesses from all kinds of businesses where they will elaborate who Cloud Foundry has helped in transformation in support of the shift to a 'Cloud First' world. Visit their official website and learn more about the event: http://santaclara2016.cfsummit.com/
Where is it – Santa Clara, California
When is it – 24th & 25th May, 2016
All those IT professionals, we will be coming up more updates like these to help you plan your event schedule this year. Also, understand how cloud based solutions can give you better returns in 2016: https://www.heliossolutions.co/blog/expect-better-returns-cloud-based-solution-2016/
Considering the increasing usage of cloud based solutions, Helios has prepared a team of Software Development specialists who will help your business to smoothly transform to a cloud based solution. For more, inquire on our website and receive a case study on cloud based solutions: https://www.heliossolutions.co/connect-with-us/ . We are Outsourcing Software Development India where you find solutions at the most competitive prices ever. See you until next blog by Helios Solutions.