From the big names like Amazon to PayPal, every brand associated with eCommerce is constantly looking to upgrade with new innovations in these competitive times. In order to do so, the eCommerce industry is going through constant changes that are in a way affecting development processes across the globe. There are a few major changes that we can expect the eCommerce world to undergo in this year.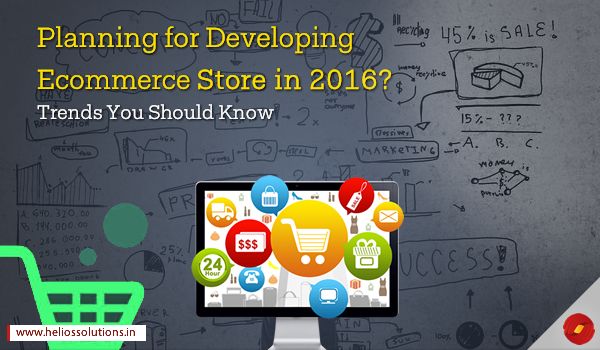 We conducted a research with our eCommerce development team to understand the needs of our clients and provide them with robust solutions in accordance with the changing times and trends. During our research and further analysis, based on the emerging technology innovations and followed trends, there are few things that we would like to share:
See Also : THINKING OF DEVELOPING A WEBSITE IN 2016? DON'T MISS OUT THESE WEB & GRAPHIC TRENDS!
1. Mobile Wallets will dominated In-Store
With mobile wallet innovation, the way we pay for online shopping has completely changed. We are expecting a major establishment between eCommerce and mCommerce where mobile wallets are totally taking shopping experiences by the storm. With mobile wallets like Apple Pay, PayPal and now Android Pay, it is instigating merchants to confirm that mobile payments are the new way to make payments. More than 9.6 million log-ins to internet banking a day – 10 % increase in the year 2015 in U.K. (Source: www.statista.com )
But this change is about to take shape in this year as mobile developers are trying to create experiences that make users use the mobile payment method instead of swiping a credit/ debit card. Here, we are talking bringing about a change in customer behavior while they shop. According to the announcements, PayPal is going to introduced as the payment option for big stores like Subway, where Apple Pay will be an option for brands like McDonalds and Macy's. Thus shopping not just virtually but even at store will be convenient as your users will be able to make payments through their mobile wallets. Thus, we are looking at an era where we are not only getting rid of liquid cash but also plastic cards resulting in less worry to lose your banking cards.
Mobile Payments is the Virtual Wallet
Convenient Mode of Payment anywhere anytime
Also acts like a loyalty card
Recording and tracking user behavior becomes easy
Bridges the gap between online and offline shopping
Online & Offline Shopping Experiences Elated
2. Emerging Trend – P2P Payments
What is P2P? P2P term refers to person-to-person payments which is an online technology that allows customers to transfer funds from their bank account or credit card to another individual's account via the internet or a mobile phone.  (Source: www.investinganswers.com )
The recipients need not have an account with the financial institution of the sender in order to complete the transaction or the transfer of money.
In 2016, mCommerce is looking a major change in how we make payments through the mobile phone. It is aiming to become holistic for online payments where it provides all that a user will need in a banking/ financial application as a payment tool. So developers must consider this point as one of the major trends in eCommerce development. It is also software that is faster to build. Apps like Venmo offer services with no limit in transactions done in a week. Major banking brands and other big names in the industry in UK and USA are moving towards this mode of payment.
3. Lending companies will become banks targeting millennial generation
In 2016, we are looking at companies working towards integration of their offerings more deeply into the lives of millennial. In 2015, we saw the changing trend of leading platforms that follow a more traditional model with lending applications like Earnest and Affirm raking in money to create a credit and lending tools targeted at millennials. These companies are aiming to become something that customers can turn to any given point in their lives in order to fulfill their need and luxuries of life.
Thus, they are trying to create a future where money lending and opting for a better lifestyle becomes easy. Here, the eCommerce industry is looking to integrate such peer to peer offerings in the coming years.
4. Automated Shopping Experiences
Ever imagined that you press a button at home and shop for all that you need on a daily basis, like groceries, and it comes to your place? Amazon Dash is one those technology services that is changing the way we shop! This is not even opening your tablet, mobile or desktop and then opening a website and placing an order, it even simpler!  It is automated and personalized. This concept is about having a shopping interface at home! Amazing right?
It is a clickable button that can be integrated at your home or around it, tapping the button will automatically order the frequently used home products. There are other brands who are also trying to integrate such systems for automated shopping experiences. One of the them is MasterCard who are building a system that can do almost everything for you, even order toilet paper or jewelry for you. The coming year, you will see household appliances with automated systesm to order shopping goods and services and even other shopping mechanisms.
Soon, Your microwave will order the pizza base for you!
5. Facebook not just the social network biggie!
In 2015, we saw Facebook teaming up with Shopify to add a shopping option for users to add on their pages, also on the other side, Facebook has also introduced Parse Tools for development and other options for small businesses. We all are well aware of the Messenger i.e. Facebook M, a personal assistant inside messenger. This has taken interactions between business owners and service providers to another level where communication between them has become very transparent and fast. Partnering with PayPal also was one of the big steps for Facebook M bringing on-demand services for users.
In 2016, Facebook is said to become the WeChat of the western region and will avail its users with the brilliant eCommerce solutions. This way this biggie is becoming the next big thing of innovations in the eCommerce industry making shopping experiences extra –ordinary.
We hope to see eCommerce industry in new highlight in 2016 and this year will show how customers and businesses are receiving these changes in online shopping. We recommend gearing up to these expected trends and businesses develop accordingly.
If you are looking for software development that can be integrated for such eCommerce systems, then consult the Software Development Specialist at Helios Solutions. Or if you are looking to develop an eCommerce portal, then you must consult eCommerce Development Specialists in avail solutions at the most competitive prizes by Outsourcing eCommerce Development India. We hope this blog gave you all that you need to know about eCommerce