2016 is here, with the growing number of online businesses, what is really improving is how you represent yourself online. Cutting it short, we have listed the few important trends to follow this year. This list has been coined by our creative team of web designers, graphic designers and IT architects to help you make the most amazing looking websites ever –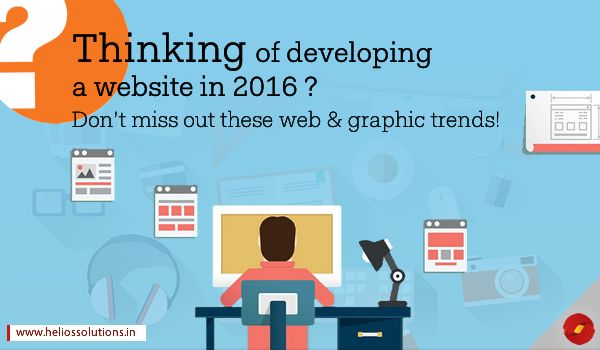 1. First & The Foremost – A Responsive Design
If you are a business online, having a responsive design for your website is accountable without a question. A responsive design elevates the user's experience. Don't you wish to stand in competition? If yes, then your website must be ready for optimal viewing across multiple devices. Today, mobile is considered as the 'First Screen', meaning it is comparatively used more than the desktop for going online. Also if you do not want to be crushed by Google for not offering a 'mobile-friendly experience', then you must consider having a responsive design. That will affect your online rankings big time and your existence online will be a question. If you are not responsive, we suggest do it right away. Talk to developers who have specialized in responsive webdesign development in WordPress, Magento, Joomla, Drupal, Virtuemart, OpenCart &amp, Typo3.
Make it 100 % responsive now!
See Also : 5 THINGS TO CONSIDER BEFORE YOU CONNECT CMS WITH ECOMMERCE
2. Users have to love it – Usability Matters
All blogs that you read about UX constantly say how important is user experience? They have not been saying so just for the heck of it, they were coming to this. This year is going be all about user experience. UX will be the prime factors in web design. Our web designer "The users look for neat and clean design that guides them to take a tour of the website". Since ages designers have been getting all creative to give cool designs. But 2016 is going all about User Experience and not cool designs.
It is important that you keep user experience in mind otherwise it will be difficult to grow your online business. Pleasing your audience is the only way you can expect them back on your website or not shift to your competitor's website. Ensure that your page loads faster and its is easy to use.
All about design that works – Talks & Guides
3. Design that originated from an application – App Oriented Design
The designs originated from an application inspired structure. Since the advent of mobile applications, people are getting use to the idea of faster browsing experiences especially in the case of native apps. There are so many things that need to be accounted when you are planning to develop a website. Leave the non essential elements and make sure that you keep the content minimal. More like how the applications are development these days. Keep it short and simple! Leave what is unnecessary! Leave all the non-essential elements.
Keep the content minimal and short.
4. Take them beyond – Infinite Scrolling
A good way to make your audience spend more time on your website is by offering infinite scrolling in pages. This offers extreme convenience to your users in order to enhance their experience. Scrolling down is faster and easier than clicking. It does take much time to reload experiences once users click from one page to another. Observe how you keep scrolling on Facebook and Pinterest and still want more! It is about not being interrupted.
Let your users go all the way!
5. Give it Depth – Material Design
A design is about how you look on the outside! Been much talked about since 2013, material design have gained acceptance in 2015 where we foresee this year to be all about material designs. You can expect to see long shadows and interesting solid shades to the background. It is a single underlying systematized design that suits multiple platform structures. Material designs are about the depth.
Make sure you are bold, graphic and intentional
6. Flat Design
Flat Design will never go out of trend. It is not really a trend, it is a benchmark. It has been used since the existence of graphic design and then finally got a name of Flat Design.  These designs are really simple living to their name and most preferred by brands across the world. They are neat and appealing at the same time. It offers extreme ease and maintains a design structure that does not bore very easy.
Use of two or three colors is good with the current trends of design and doesn't make your web presence look shabby.
Keep it Flat! Keep it Hottttt
7. Tell Stories – Visual Story Telling
We as people like to listen to stories! When something said in a story format, we love to listen to it. Remember, when you read those story books? The visuals guided you. It goes in the similar manner, understanding gets inspired and influenced from those visuals. Visual story telling can be done by giving a theme to your web presence, weaving a story board around your brand. This is a part of branding.
We all are well aware that visuals always leave an impact. Images, videos, info-graphs or the trending GIF's are much more impactful than just text placed there.
Few Stats that will help your understanding:
90% of information transmitted to the brain is visual and visuals are processed 60,000 times faster in the brain than text  (Information Source: 3M Corporation and Zabisoo)
46.1% of people say a website's design is the number one criterion for discerning the credibility of the company. (Information Source: Stanford Persuasive Technology Lab)
Visual content drives engagement. In fact, just one month after introduction of Facebook timeline for brands, visual content – photos and videos saw 65% increase in engagement. (Information Source: Simply Measured)
Visuals will make the difference
8. Give Information through Visuals – Use Info-graphs
Info-graphs work wonders when it comes to saying many things in brief. It works even better for lazy readers. Many brands even turn their blogs in the form of an info-graph, this helps them understand without really looking at the whole thing. They also form a story board that elaborates the topic point to point helping the reader to understand everything at a glance. Also, call-to-actions can optimally placed with such graphics, helping user to take an action immediately after having an understanding about a particular topic.
Simplify reading, simplify experiences!
Following these trends while you design your website, application or E-Commerce portal, you will gain a place unbeatable and also stand in the race with the others. Following trends shows that you are updated and care about your customers and what can comfort them. Those business especially who are from the E-Commerce industry must consider designing as the main aspect when developing a website. Consult the E-Commerce Development Specialists to help you out at Helios. Our website development experts will leave no stone unturned to please you. Design is what inspires and culminates in creating an experience.