After days of waiting, the new update is finally available to download. Yes, Joomla! Framework releases an update 3.4.8. This release is more about bug fixes than any new features. But those who have been using Joomla! Shoud consider updating to the latest version and make the most of it.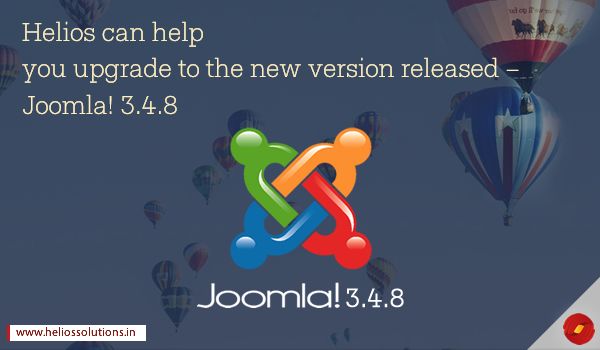 Joomla! is an open source CMS (Content Management System) which is utilized to build sites and web applications and it is available for free. Joomla! is the principal trusted CMS for sites and web applications because of its extensive mixture of additional items, plug-ins, modules and different parts. It is estimated to be the second most used open source content management system for website development after WordPress.
See Also : OUTSOURCING JOOMLA DEVELOPMENTS IS THE ULTIMATE CHOICE
The session management in the earlier version – 3.4.7 had few bugs, thus this version get you those bug fixes. Businesses using Joomla! are now availed with bug-proof session management features.
Joomla! 3.4.8 has got for you:
The browser sessions bug have been fixed with this updates and all other reported bugs in 3.4.7 have also been fixed.
Users faced issues like:
Users were unable to edit or create items after 3.4.7 update
After session timeout users could still navigate to the backend but they were unable to create/edit items or use pagination or any kind of filter.
Fatal error about connection – > stat () not existing on external database connections.
For learning more about the issues with 3.4.8 release, see the FAQ section here: https://docs.joomla.org/Category:Version_3.4.8_FAQ .
Note: You will be expected to log out as soon as the update is complete.
The Joomla! Framework is backed by a huge community which makes finding solutions easily for development with this framework. The Production Leadership Team's goal is to continue to provide regular, frequent updates to the Joomla! Community. You can learn more about the development with Joomla specialist or you can visit the Joomla Developer Network: https://developer.joomla.org/.
To read the update instruction before you move from your existing version, please visit the following link : https://docs.joomla.org/J3.x:Updating_from_an_existing_version
How Helios can help you for upgrading your Joomla Website?
Helios recommends upgrading to the new version as it is pratical to fix issues that you may be facing using the current version. Outsourcing Joomla Website Development to Helios is a very advantages deal, why?
It is highly cost effective solutions
It offers solutions that are high in quality and maintenance after fulfillment of project
Communication is easy with project managers speaking in native languages
A dedicated Joomla specialists, developers and team managers
10 years of experience in development with Joomla framework
We have a team of Joomla experts taking care of your project execution with ease and expertise. We have a dynamic team of Joomla specialists who have successfully completed major projects for small, medium and large categories of business.
Hire Joomla experts and upgrade to the new version today. We are Joomla Development Company that furnishes customized web developments for all kinds of business across the world. Hopefully this blog proves useful to you. If any query, you always have the comment section. We will help you out in no time.