Joomla is well-renowned open source platform worldwide, it is an award-winning open source set-up backed by very a large community of coders and developers. Joomla website development India helps you in making the robust websites. In India, you have a team of Joomla experts taking care of your project execution with ease and expertise. It is estimated to be the second most used open source content management system for website development after WordPress.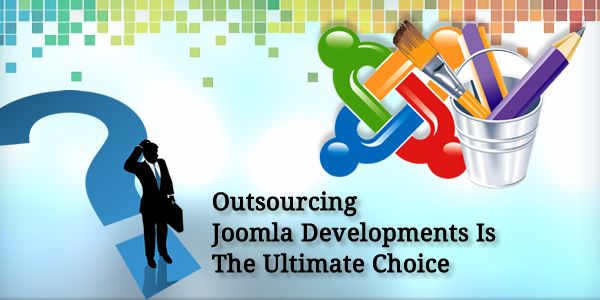 So What is Joomla?
Joomla is an open source CMS (Content Management System) which is utilized to build sites and web applications and it is available for free. Joomla is the principal trusted CMS for sites and web applications because of its extensive mixture of additional items, plug-ins, modules and different parts.
It is built on model-view-controller web application framework that can be used independently on the CMS. It is written in PHP, uses object-oriented programming (OOP) techniques(since version 1.5) and software design patterns, stores data in a MySQL, MS SQL (since version 2.5) or PostgreSQL (since version 3.0) database. (Source: Wikipedia)
Why you should select Joomla?
Convenient in Management:
With a Joomla content management system, you can develop website where it avails you with separate permissions to access which helps in having multiple user groups. So now you can easily publish, create or edit content on the website with very streamlined security at every level. It comes with built-in registration system that lets users configure personal options. Authentication is important in Joomla websites which allows users to streamline the registration process.
International Support:
One of the amazing benefits of Joomla website development is the language manager. Joomla website is provided with a UTF-8 encoding for multi-lingual supports. So you can have multiple language control over the website and can function with other language in your admin panel that is convenient in your understanding. This allows you to make websites in foreign languages for users across the world.
New Version Supports JQuery:
With the new 3.3 update introduced, JQuery library has been included in the CMS score and the Joomla JQuery only and not Moo Tools anymore. Coding using MooTools has now been converted to use JQuery. Since Joomla now comes with its own JQuery library, it increases website performance and reduces issues and conflicts when individual extensions call multiple copies of the same library with MooTools. The new version brings new APIs that will allow Joomla to access Cloud Storage services including Amazon S3, Google Cloud Storage, Rackspace and Dropbox. Also, it brings you new features like improved font-editing, higher speed with jRouter and SEO Microdata formats.
Highly Secured:
Selecting Joomla as your CMS system is a wise thing to do. The website can be made quickly but at the same time it is highly secured. It is considered to be even safer than WordPress websites. With the new version in place, the security systems are taken to next level. The Joomla CVS v3 is the most secured version until now. Ask Joomla specialist to opt for the latest version and function with the most safe to use websites ever.
Marketing Support:
Features like Newsletter management and contact management system allows direct establishment with your E-mail support where you can add auto-responder and your users can easily get in touch with you. You can add button on the search pages and have click through's to the website. You can organize a marketing campaign with Joomla Banner Management functions and increase your productivity through the Joomla websites.
Brilliant Media Manager:
Joomla comes with a media manager tool that enhances your website to another level. It has an exclusive Media Manager that manages your files and folder after configuring the MIME type settings. These settings are provided in Article Editor Tool. You can also upload images and edit with this integrated tool. This could not have gotten better than this.
Few Other Benefits:
Menu Manager
Template Management
RSS
Search Feature
Joomla has been downloaded over 50 million times. Over 7,700 free and commercial extensions are available from the official Joomla Extension Directory. Other extensions are also available with other open sources.
Are you looking to Hire Joomla Expert?
You have fortunately landed on the right page. Back in India, we have a highly experienced dedicated team of Joomla Experts. We are Joomla Development Company that furnishes customized web developments for all kinds of business across the world.
We offer customization packages for Joomla website development with a dynamic team where you are benefitted with having a native project manager for your project exclusively taking care of your work. So Outsource Joomla India has got it all for you.
We offer:
Integration of your existing systems into Joomla-developed website
Joomla website development
Customized Joomla templates
Development of Joomla modules and components
Joomla E-commerce with Virtuemart
Upgrading from Joomla 1.x version to latest Joomla version
How is that? So if you are very keen on making a result-oriented website. Then, you must give it a shot with one of the most well-known names in India for Joomla development who successfully executed websites for small and big businesses in Europe. Have a word with our Joomla Specialist at Helios, Log on to: https://www.heliossolutions.co/
You will ensure you are never disappointed. Hopefully this blog proves useful to you. If any query, you always have the comment section. We will help you out in no time.