The Whatsapp messenger and Skype chats have the entire medium of conversation. We are not only able to talk but also share audio and video files, documents and pictures anywhere and anytime. The communication has come down to messenger apps and ChatOps. It is infact being referred to as the ERA of Conversational Commerce.
In this year, we will see communication tools that will provide communication through messenger apps with businesses and organizations. Well, the personal messengers like WhatsApp or Facebook Messenger will offer with communication service with banks, businesses or information of flight delays. Yes, these apps are taking it one level further.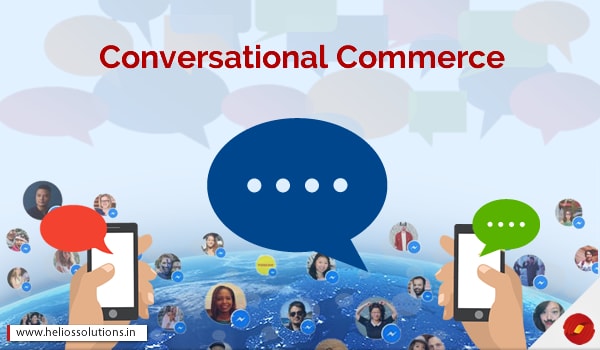 So what is Conversational Commerce?
It is about utilizing a chat, messaging or other natural language interface i.e. voice to interact with people, brands or services and bots. It is commerce platform for conversational mediums of the modern times like the Slack, WhatsApp or Skype!
"Conversational Commerce is an approach that puts conversations between brands and their customers improving, simplifying and fastening the process of communication."
Conversational commerce will enable customers and users to chat with company and business representatives very easily instead of making call at the call centre and wait until they redirect your call to the representative. So communication channel will become simpler. Customers will easily get customer support, ask questions or get personalized recommendations. Customers while buying can get real time reviews and feedbacks to purchase decisions. This is will lead to very engaging and interactive user experiences.
See Also : Increase The Repeat Orders On Your E-Commerce Store With These Easy Steps
For Businesses
Companies of any kind or size will be able to use autobots  or Chatbots to offer customer services. Conversational commerce will be enable customers to purchase through the app they have been using for messaging purpose. Businesses will be able to send confirmation messages, tracking, shipping or delivery messages directly to these messenger apps. Chatbots will resolve issues in real time or deal with customer queries for business owners. It is the emerging front that the businesses globally are slowly exploring and soon will become the part of business communication and customer's lives.
Impact of Conversational Commerce on eCommerce
The eCommerce industry is indeed booming and it is allowing businesses to explore new heights by reaching out to the potential audience through various effective technological and software innovations. It is about delivering convenient personalization and decision support. Although the eCommerce industry and its systems works very different from the conversational commerce.
Conversational commerce is absolutely in line with users' practices and experiences. It is about elaborate ways of engagement and interaction. You need to think from two perspectives i.e. customers and the platform owners. It is important that you come up with a strategy that adopts a platform for your target audience that could reach businesses and organizations very easily.
Establishing a Link between Conversational Commerce & eCommerce
The eCommerce industry can be linked to the conversational commerce. It is a great way to engage the target audience and also establish a more effective way of providing services. When you offer a conversational service for your eCommerce industry, it is much easier to elaborate on the various aspects. It can work wonders in these times where brands are heading to a more customized service offerings and also personalization of services.
Effective Customer Service
When you are on an eCommerce platform, communication with customers and users is prime to keep them engaged. Conversational commerce offers a way out for connecting your customers to your business in the most convenient ways. It will be much easier for your target audience to reach out to you. Customer service is making the most definite efforts to ensure customer engagement willing to take the most elaborate steps in customer service.
5 Trends of Conversation Commerce
Advanced Notifications
Chat Bots
Chat in Apps
Apps in Chat
Humans Chatting with Each Other
Customers will Explore New Ways of Shopping
As we foresee the powerful impact of conversational commerce on our eCommerce shops, the customers will explore new ways of online shopping. These shopping experiences will be more elaborate. Conversational commerce will make the eCommerce industry and its interaction with their audience more authentic and natural.
The customers will feel more comfortable to interact as it will be much similar to talking to family and friends through Whatsapp or Skype. It will offer great level of proximity!
Effect of Conversational Commerce
Increases ROI

Provides Productivity
Improves Brand Image & E- Reputation
Improves Customer Satisfaction
Offers Real Experiences
Drives Engagement
Interaction in Real Time
Emerging Market of Conversational Commerce
E-Commerce Development Expert and the web development experts at Helios Solutions are preparing to the emerging trends of conversational commerce. As a business, we recommend to prepare your business for this trend as this is here to stay! For consultation and further understanding of how it can benefit your business, have a conversation with our web development specialist at Helios Solutions. Let's make conversation more real!