Since businesses making that shift to having an E-Commerce portal, for many having only an E-Commerce portal is not enough, they need a strong CMS system to establish their E-Commerce portal. Having CMS application integrated to your E-Commerce website is a key providing brilliant user experience. It provides with a designed platform in parallel with content where you give out beautiful digital experience that engage customers and drive revenue.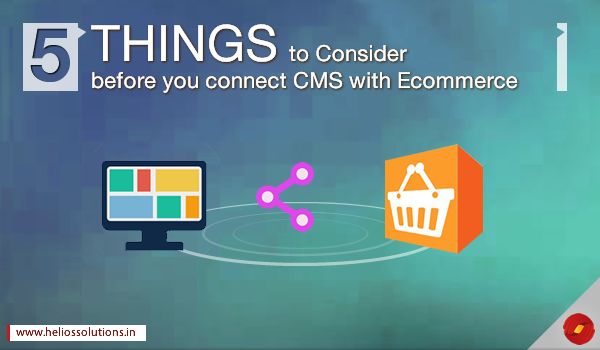 Many businesses happen to have different CMS system and a separate E-Commerce platform which looks tedious affecting the overall digital performance of the brand. A smooth integration of this can help businesses perform efficiently on their digital platforms.
See Also : 5 Simple Steps to Attract Traffic to Your E- Commerce Website!
Here is how you can connect Content Management System with your Ecommerce Platform
1. Firstly – Check Compatibility
Before you go ahead and integrate a CMS system to your E-Commerce portal, you need to check how compatible your selected CMS is? Selecting the right framework is the crucial decision, ask your IT expert for the right kind of framework that will suit your business model. Study your requirements; define the purpose of such integration. Keep your existing infrastructure in mind before you take this decision. Both CMS and E-Commerce portal will need a structure that offers robust solution and ease in back end operations. Understand support systems, the interfaces of the systems landscape or if such integration is possible without high programming. Once you are through with these points, you have your way clear.
2. Authorize & Organize Team
If you are planning to link the CMS system and E-Commerce platform, you must link the departments too. It is important that you overcome this otherwise it can hamper your progress report. You need to bring both the teams together for such integration.
3. The Approach
Selecting the right mix of technologies and applications is very important. It requires a best of breed approach that will resolve the purpose of having such integration. It is important to have the best in breed technology that will cover the specific needs. What is trending is bringing customers through high quality content and service oriented and entertaining themes. Connecting your CMS to your E-Commerce portal, your business can avail a specialized system that gives you more ways to maintain content units or to provide third party.
4. Add Facilities
Using additional component to enhance your CMS system through custom made applications would be a good idea for ease in operating your E-Commerce platform. In this way, your work process will be more efficient. For example, you can opt for systems that do not have matching connectors like a Product Information Management System (PIM). You can also add a search index to your content management system. Having an intermediary system provides you with a uniqueness and best in the field service that enables higher flexibility.
5. Improve Front End Development
Trend says that development focus is shifting from back end development to front end development. Content being the main factor to drive the crowd to your E-Commerce forces us to have a good front end development. Thus, ensure that you select the most robust framework for the front end development of your website or application. The CMS is designed in order to provide a optimal display of content, proper call to actions and of course payment gateways. Also, it becomes important for your platform to be good for optimal viewing across multiple devices. CMS is responsible for pure content management and its maintenance, thus your platform needs to meet with these requirements at the front end for an effective and efficient E-Commerce portal.
Front End Framework you can select:
BootStrap
HTML/CSS
SASS & LESS
Twitter BootStrap
KickStrap
Aurelia
Angular JS
Reat JS
Talk to CSS  Development Specialist and understand the requirements of front end development and its importance for E-Commerce websites. We are a Website Development Experts helping businesses to shift smoothly to becoming an E-Commerce platform through our systematized solutions. We ensure that you please your customers through an amazing E-Commerce portal that is not just good looking but also good working. Bring it on with an E-Commerce platform today!