eCommerce Development Industry has been witnessing a cutting edge competition due to so many technologies for eCommerce developers. But choosing the right one suiting the business model and requirements is the catch.
eCommerce development requires understanding of market trends and target audiences. Moreover, it requires research in customer behavior and being able to make the most of the touch points. It is important to keep the user engaged at every step.
Our eCommerce development specialists have been studying analytics and keeping up with the latest trends to offer you with techniques that can optimize your online sales. With their experiences, the following proves to be very beneficial to our eCommerce platforms owners: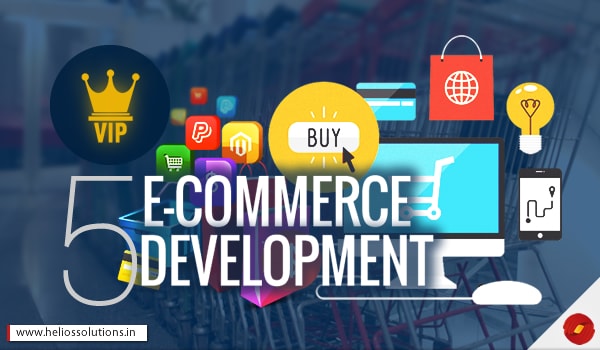 1. Web & Mobile Compatibility
Any platform or device, you need to ensure that your platform looks and feels good. Your users must have a smooth experience with your platform. In this mobile first generation, you need to ensure that your users are able to access your webstore with ease on any device or browser i.e. responsive. Keep your webshop's look and feel interactive and lively to convey a feeling of enthusiasm among your target audience.
2. Appear Genuine
A high quality web design and eCommerce development will ensure that your website looks and feels genuine. Good pictures, navigation and functionality can leave a good impression of your brand on your target audience. Don't forget the support and contact details. Make sure you offer easy payment options and ensure security of your customers. Make them feel comfortable through content and easy user experience in order to win their trust. Reviews and recommendations always add to the brand image and offer a positive outlook of the webshop.
See Also : Magento 2 – The Ideal Technology For ECommerce Development
3. Content Quality
To ensure that your eCommerce platform is successful, you need high quality content. With the content here we mean the text, images, videos and product descriptions. These elements are small but important elements that need your attention. Keep your content short and simple, free from grammar and spelling errors. Use high quality images that offer clarity and bigger views for closer peeks. Make sure if you are using product demo videos, they load fast. Also, images need to be optimized in order to load faster. Remember, content is the key!
4. Smooth Navigation
Customers have a short attention span, if there are long steps to the checkout process or too many steps at payment gateways, your customers may change their mind or feel uninterested. It is important to win their hearts in the shortest span possible. For this reason, you need to ensure that your navigation is smooth. And the customer is able to have an experience with minimal clicks on your platform. Keep in mind that you don't offer too many pop ups as that can be distracting.
5. Offers, Newsletters & Jazz
Add some jazz to your platform, make it happening! Ensure that your customers are happy and intrigued by your platform. Offer them with irresistible deals, coupons and introductory offers. It is always good to get them sign up for the newsletter, you can get them again to your platform with new products showcase in the newsletters. You want your webshop to look alive and feel alive!
Get the Best eCommerce Solution
When you are working with the experts, you don't have to worry about anything. We have got your back. We will make sure that your webshop functions well and navigates smoothly. Our design thinking process and knowledge in eCommerce technologies will offer you the right blend of look and feel. Our team of eCommerce development experts will make sure that your webshop steals the show and leaves your customer awe-struck!