The eCommerce industry in the last year has experienced a wave of evolving energies. With more businesses going online, the competition is cutting edge. eCommerce platform owners are resorting to various techniques for improving user experiences and standing out from the crowd. Talking about the technology, Magento is dominating the eCommerce industry with more than 25% of market share in the context of eCommerce technologies.
From Augmented Reality to Gamification techniques, the eCommerce industry is exploring possibilities with the new technology innovations in order to offer interactive and improved user experiences. Magento Technology is flexible to work with and since the introduction of Magento 2, it is much easier to integrate any feature to the eCommerce platform.
Magento was specifically designed for eCommerce platform where it covers almost all needs of eCommerce platform or an online shop.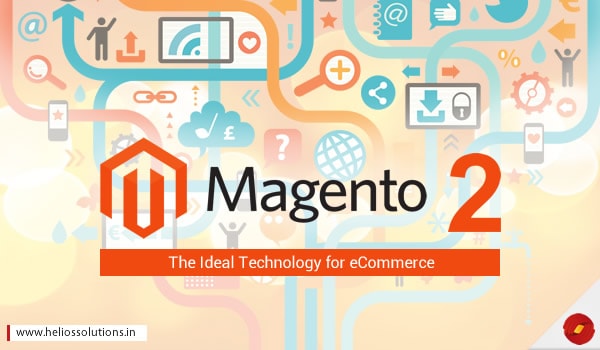 E-Commerce Development with Magento 2
Fast & Flexible Development
Enterprise Level Development
Cost Effective Accommodation
Complete Ownership & Portability
Open Source Platform
Intuitive Admin Tools
Convenient to Upgrade
Differentiated Customer Experiences
Want to choose the best e-commerce technology?
Hire Magento Certified Solution Specialists!
Advantage for End Users
Personalization
With the help of Magento Technology, eCommerce owners can offer very personalized or custom made experiences for their user. It offers a feature that helps in culling out details that elaborate the further understanding of various aspect of communication.
See Also : 2016 – The Year Of Conversational Commerce
Users can Conduct Advanced Search
In the current times, users are well aware of the latest trends and have become tech-savvy. And considering this change in habit, they have begun to use the search feature available in the website very extensively as it allows them to explore and also find the related products, services or stories. For this reason, eCommerce developers avail filtered or faceted search which works great with the help of Magento 2. It increases the scope of discovery for the users/ customers. Magento 2 also offers lenient navigation.
Convenient Checkout
The checkout process needs to very transparent and easy to conduct, it should be hassle-free. When the user is browsing an eCommerce platform made with Magento 2, the checkout process is very smooth and efficient that reduces the shopping cart abandonment rate and offers much convenience.
Advantages to the Platform Owner
Yes, your end goal is to please your users but Magento offers great experience for the platform owners in the backend. It is very easy to make edits or upload content in Magento eCommerce platform. Let's explore the benefits:
Want to choose the best e-commerce technology?
Hire Magento Certified Solution Specialists!
Convenience in Usage
As an eCommerce platform owner, you need to be able to upload content easily and make the edits in the backend which needs to be streamlined. This is the reason that most of eCommerce development experts suggest Magento technology for eCommerce development. It offers very robust and rich tools in the backend that eases out the process of using the backend. It offers features that makes it easy to manage orders, sales, shipping, inventory or reporting. Magento2 offers amazing flexibility for backend users, making it the ideal framework for eCommerce development.
Responsive Design
In today's mobile first generation, it becomes important to reach out to your customers/ users on all platforms. Having a responsive design has become necessary in these times. Being responsive makes your eCommerce platform optimal for viewing across multiple devices. With the help of Magento technology, your web portal becomes available for those using desktop, tablet or a smart-phone.
Optimization
The best part of Magento webshop is that it comes with SEO features. It also offers SMO parameters with modular approaches. Thus, Magento lets you be on top of the search engine list. It allows users to drag and drop visual merchandise for product optimization for your eCommerce platform.  And according to Google Search Engines standards, It is very important to be optimized for search engines these days as only then you can be the first ones to reach out to your target audience. Using meta tags and meta descriptions with keywords can help you in optimizing your products in the search list.
Global Presence
When you are an eCommerce platform and targeting the world audience or planning to expand in future, then Magento 2 technology prepares you for it. Magento lets you have a global presence with support and development in multilingual languages. It offers functionalities that let your eCommerce platform explore the cultures with the help of different languages and currencies making it easier for the owner to run the scene.
At Helios Solution, our team of Magento Development Specialists is highly experienced and has gained expertise in using Magento 2 technology. They will ensure that they fulfill all the requirements of your eCommerce platform.  Magento is the most preferred technology for eCommerce development, if you have an idea and wish to build a brand, talk to our eCommerce development expert today and get a blueprint of your platform.