Scheduled to launch in May, 2015, Android's new version has finally launched this fall. Google has launched its Android M i.e. Android Marshmellow. It has brought many new features along with a few questions in competition. The name suits to Google's nomenclature with names like cup cake, Éclair,Gingerbread, Honeycomb, Jelly Bean, Kitkat and Lollipop. See if thishas enhanced your taste.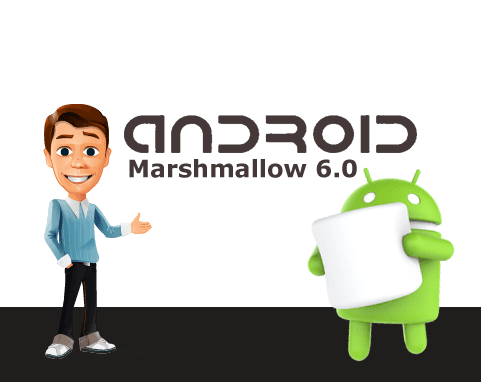 The 'Marshmellow'does not have many changes but enables us with two new changes:
Android Platform Change
Final Permissions User Interface – Updated interface and enhanced permissions' behavior called as granular app permissions.
API Change:
Updates to the Finger API (API level 23) – Enabling better error reporting, fingerprint and enrollment experience along with enumeration support for better reliability.
New Features:
Visual Voice-mail
Rotating Home Screen (Landscape format)
New Theme
New App Drawer
Delete Screenshots
No Status Bar Icons
RAM Manager
New Storage System
But questions are being raised whether it has been able to combat the Android's Biggest Issue –
The Security Model ???
With security researcher's finding bugs threatening android phone systems, it has become a challenge to overcome those. But, somehow the new version does not really cater to the issues of system security.
Last month, a bug called Stagefright was found by security firm Zimperium that has proved to be highly lethal for android phone where a hacker can send a text and you will be a victim. This bug has turned out to be the worst vulnerabilities till date, a statement by the company.
It is being said that fixing this issue is not really in Google's control. Though, Google has addressed the bug and is preparing to fix it. But there is more, it is not just Stagefright but later in the week, another bug was found attacking the Android system which was found in the Google patch.
Google has been known to send patches that are suited to phone makers. With such cut-throat competitions and less profit margins, phone manufacturers strive to update software for phones for that have been sold. This is a problem for big and small phone manufactures.
If Google wishes to live up to its commitment of monthly updates, it needs to empower its security system. For which, LG and Samsung, one of the biggest hardware makers are ready to support. Android will soon be relying on more security firms as day in and out there is one new vulnerabilities found.
Comparisons between Android and Apple phones are being made, Apple is able to push updates on its own whereas Android users are facing problems with updates.
Tell us what you think of such encounters when it comes to Android security system. Please write to us what do you think.
Get in touch with us if you want to hire Android Application Specialist for your Android Development Project and for more information visit https://www.heliossolutions.co/mobile-technologies/android-application-development/