With the Apple's fix, it is becoming easier to validate the new fix for the OS X Git Version. XCode used by many iOS developers to write applications for OS X and iOS. It is an Integrated Development Environment which includes a package called the OS X Command Line Tools for Xcode.
The Xcode contains the open source Git for developers to develop and code. This new version was released by the Git developers earlier in March but they took time to integrate Xcode.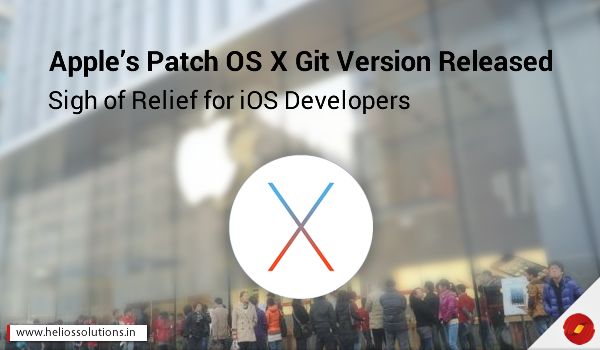 There were two vulnerabilities known since mid of March. They could be exploited with a file structure while cloning a repository. Because of these vulnerabilities, hackers or attackers could easily execute hacking through malicious code on systems using the Git source code.
See Also : TOP 8 FRONT END DEVELOPMENT TRENDS FOR DEVELOPERS
The Two Vulnerabilities:
CVE – 2016 – 2324
CVE – 2016 – 2315
Recently, they released a version of Xcode development tool for two reported critical vulnerabilities in Git source code management client. The new version is shipped with command line tools package which has been updated.
For the updated version, visit: https://support.apple.com/en-us/HT206338
These tools package is not available as installed by default on OS X. For this, the developers have to install the tools separately from Xcode and those who have installed will receive an update notification from the store.
Because there was no fix for Xcode earlier, many system administrations had to resort to hackery in order to disable Git on Macs that were using Xcode in their organization which also affected the work and productivity in all.
Many systems administrator posted arguments in context of non availability of the bug fix as it was being dragged for a long time now. The iOS App Development Experts were extremely put off due to this vulnerability.
iOS App Development at Helios
Our team of iOS App Developers is a bunch of tech enthusiasts who look forward to have exciting projects that are challenging and require them to experiments with their skills. iOS App Development is our forte with development experience of more than 5 years for the biggest of the brand across Europe. Ask for our case studies: http://www.heliossolutions.in/contact-us/. We have constantly evolved with time with learning new technologies to enable businesses with the best of IT solutions that meet the changes of time and technological innovations.