The biggest challenge faced by B2C mobile apps is – The Download! It is the final showdown before your customers come across the real picture. Thus, you need to ensure that your impression on the Play Store is mind blowing and download worthy! Now, how do you make sure that users surely download your mobile app.
To make your mobile application download worthy, a descriptive film for your products/ services that is easy to understand. When you create a film of your products or services, it is like you are presenting your products or services in person, from your perspective where voice tone, sound and story of the film can leave an impression in your user's mind, making them download your app.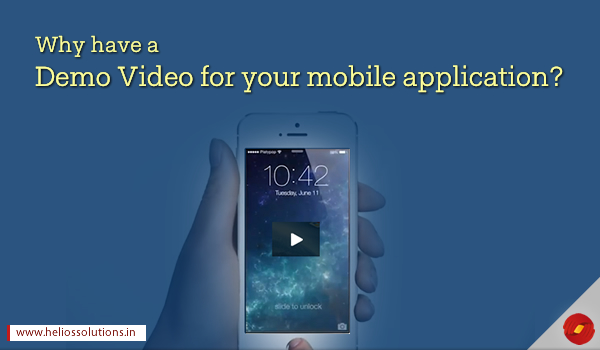 Most of the users are always juggling with the space on their phones by may be deleting a less used app on their phones, so you understand the competition you are facing. What are the chances of you making it among that one who is 'Download Worthy?
So what makes you Download Worthy?
The answer to this question is "A Demo Video"
We cannot deny the fact that users or viewers like pictures/ video's than text. It is any day preferred over text. Stats says that online videos are 5.33 times more effective than simple text to read. We all are lazy readers, thus it's difficult to keep them hooked onto you. Remind yourself 'engagement is the key' and videos are much more engaging than just text. The app store has the download option, where Google Play Store and Apple Store, both avail the feature to add a demo video so that your viewers can get a brief about what to expect from your application.
Attract just everyone
Demo videos can do the talking for all kinds of target audience – users, investors, critics etc. They don't just work for users but also for investors. Showcasing a sales clip or your product live in action can help your target audience have better comprehension resulting in meeting the purpose of video creation.
Moreover, the press, critics or bloggers also prefer watching a video instead of may be reading about you as it provides with a quotient of entertainment. Well, that if you are able to make it entertaining. Also such demo videos can work wonders for those looking for just an overview about your mobile application.
Advantages of Demo Video for Mobile App
A Video Clip is Shareable!
Brands across the globe strive to create shareable content for online marketing. Thus, having a video as your online content can really work for you. A great video clip can be expected to share further and thus reach more number of people increasing the possibility of downloads by other users too. Make sure you make a share worthy video with your videography expert and gain the benefits of it by posting it on your app store, website and social media channels. It proves to be an effective medium for spreading the word out.
Works for ASO Activities
Gone are the days when you as a brand were indulging in striving to keep your place at the top in the google search list through Search Engine Optimization activities i.e. SEO but now for an application you need to top the list of so many applications at the App store. For which ASO i.e. App Store Optimization needs to be carried out.
With a help of a video, your app can be highly optimized for the app store. Since descriptive films are always preferred over reading a short description on the app store, make sure you make a pleasing 'demo video' for the app store.
Also read, https://www.heliossolutions.co/blog/mobile-app-development-trends-miss-2016/
Aids in Educating the Users
A video can be vary from a perspective where you are bringing about awareness among your users. This really helps in creating an image of a brand and then leading to customer loyalty. A video is a good medium to educate your users or viewers about your products and services and have a stronger impact on their minds. It also generates a recall value among your target audience.
If you want you mobile app to be downloaded, a demo video proves a very essential tool for meeting this purpose. But this can happen only if it is done in the right and creative way! If you do not have the team that has the skills to develop a video for your mobile app, talk to our mobile app development experts and let them help you out. Our project managers will help you by communicating with you in your regional language as we are IT outsourcing India known as Helios Solutions.