With Christmas just round the corner, your customers would get busy searching and shopping for gifts. And you would be busy handling more enquiries and sales provided you have already prepared the ground. As you decorate your home and physical workspace for Christmas, it is imperative for you to change your e-store décor to leverage your customers' festive sentiments. Here are certain tips and tricks to bring Christmas effects to your online store: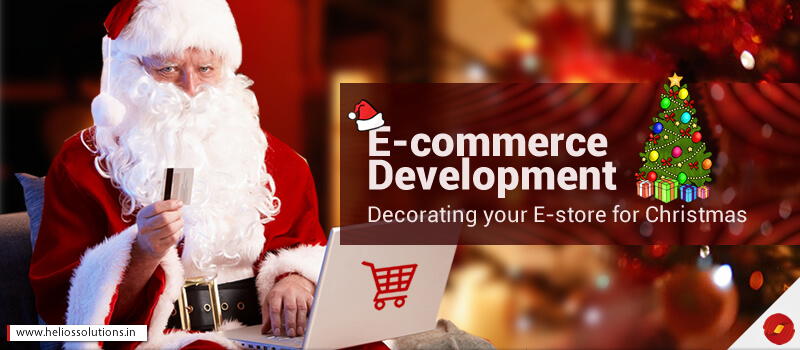 Tweak your website UI
You can give a boost to your customers' festive mood by getting innovative with the user interface (UI). Firstly, you can add cheer to your website by changing its theme apt for Christmas. You can also play with the loading bar. For instance, instead of your default loading bar you can switch to Santa's reindeer hopping on the snow. Do not forget to remind your audience that time is of the essence and inspire them to make a purchase by adding countdown clocks. These ideas are just the tip of an iceberg as you can always have infinite unique ways of wooing your customers provided you reach out to our adept team of UX/UI development experts.
Add sound effects
Sound is an important tool to reinforce the festive mood of your customers and heighten the Christmas atmosphere at your e-store. You can either make your audience hear the jingle bells at your site by going for the ready-made Christmas sound effects bundle or get in touch with our e-commerce development experts who can share their ideas with you to create your own Christmas sound effects quickly by using things available at your home.
Come out with creative and unique business ideas
Now, let us come to the most important point – giving a boost to your business bottom line. Make sure your inventory stock is up with the latest and greatest products. For the festive season get liberal with your order and return policies. Integrate more payment gateways and your customers would love you for this added convenience. Consider reward programs for your loyal customers and exercise your brain cells on how to convert your prospects to customers. Have your digital marketing strategies in place to bring traffic to your store. Our e-commerce development specialists along with marketers on the same page can guide you with tricks suitable for your particular business.
Wrapping up!
Just imagine your endeavours have bore fruit and your digital store is packed with shoppers! Are you technically solvent to handle that Christmas e-commerce rush? It is of utmost importance to ensure smooth functioning of your website, mobile optimization, website loading speed, seamless user experience along with creating festive atmosphere digitally.
Therefore, get ready for an amazing eCommerce Christmas season with our team of E-commerce development specialists. We are an E-commerce Development Agency delivering proficient and cost-effective solutions to our esteemed clients.