As technology develops and we move forward towards a digital economy, having a digital transformation strategy is a business imperative irrespective of the industry we are operating in. But not necessarily every company has the software development competency to fulfill their digital ambitions. That doesn't mean you would need to start coding right away! You can continue to focus on your core business processes and outsource your software development projects to another agency. This is a win-win solution for your company not only because it will be cost effective but you would be able to connect with a new talent pool. Our team of software development specialists has been enabling our clients to smoothly navigate the digital shift by providing them the right software solutions to automate business processes and lower costs; thus stay competitive in their respective industries.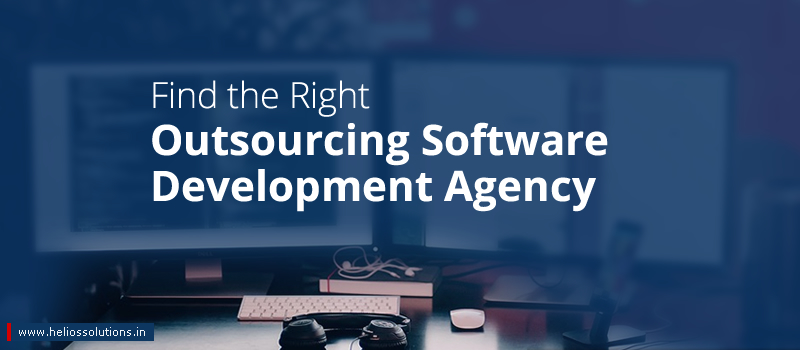 Here are some of the guidelines that would help you to choose the right outsourcing software development firm and also enable you to approach the software development project in a right way:
Set clear objectives
Before reaching out to an agency with your software development needs, analyze your business requirements and align them with the objectives that you want the software application to achieve. Document these objectives clearly so that they form the foundation for the scope of your project and it is agreed upon between both you and the hired agency. Any subsequent change in the document must be tracked as well as agreed upon by both the parties and managed in a systematic manner.
recommended read – Why Your Business Should Gear Up For Digital Transformation? 
Evaluate the outsourcing firm
You need to perform a thorough research while considering a software development agency and request them for case studies of similar projects. Also check for recommendations or references from clients they have already delivered software development solutions. Also find out about their partners and make a detailed investigation about the company. If you want to know about us you can reach us easily.
Send a request for proposal (RFP)
We at Helios, ask our potential clients to precisely draft an RFP and send us so that we have a clear idea about their requirements, budget, expectations and timescale. Then we would send a documentation of estimate so that they get a clear idea and can easily evaluate our response. Further, we would chalk out a detailed development plan, once our prospective client is satisfied with the estimate.
Draw up a contract
Once our prospective clients are ready to entrust their project to us, we draw up a contract to determine the nature of relationship of both the parties involved. It is a very detailed document wherein we precisely mention the cost, timescales as well as the deliverables so that they have a thorough understanding of the project. In addition to the scope and deliverables, we also outline the processes for change management, problem reporting procedures as well as ongoing maintenance based on client-specific requirements.
Schedule frequent review meetings
We frequently collaborate with our clients via skype chats and video conferencing in order to build a stronger rapport with our clients and transform the relationship into partnership. Being an IT Outsourcing firm, we have always exceeded the satisfaction of our clients and helped them maintain a long-term sustainable competitive advantage through our feature-rich and sophisticated solution.
Frequently Asked Questions
What is an outsourcing partner?
An outsourcing partner is another business or individual whom you hire to perform your tasks, handle operations or provide services to lower costs and improve efficiencies.
How do I choose a software development partner?
Firstly, set clear business objectives & perform a thorough investigation of your potential partner. Then, send a request for a proposal & if you're satisfied with their estimate, sign a contract of partnership.
Why should you outsource software development
You should outsource software dev because this strategy not only helps you to lower costs, gain speed to market but also connect with talented people irrespective of geographical location.
When should you outsource software development?
You should outsource when you find out that your prospective partner does it better, more efficiently and at a lower cost (than in-house). Moreover, this would allow you to focus on your core business.