With the latest update to Google Maps on the phone, now even the Android wear gains some mapping functionality. Google maps bring new transparent status bar few navigation features to its latest updated 9.9 version on the phone.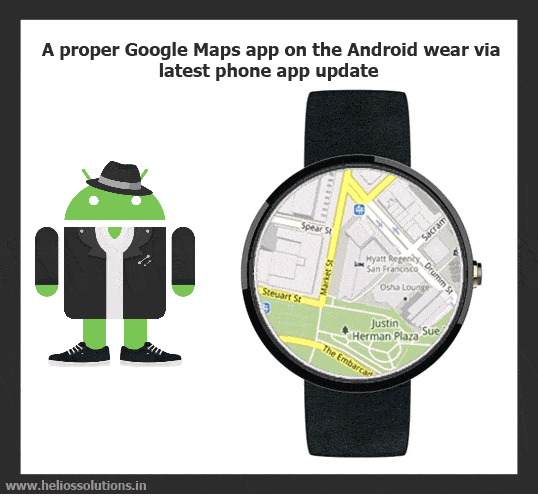 Users may be able to notice that there's literally a Google maps app on the connected Android wear watch. The app can be launched from the app launcher or with a simple "open Maps" voice command. When the app opens, you get a full screen top-down map experience. Users can scroll down, pinch to zoom and also switch between true North and device direction views. There are additional buttons on the top of the screen that also helps to zoom in/out when tapped, which is much better than pinching, there's also a small pin button given that lets you quickly scroll through nearby places and navigate to them. However, when you try to fire up navigation from the Maps app on the watch, it will still correspond with launching Maps on the phone.
There's also one more amazing feature that gives a simple black and white outline map when watch does not receive interaction for a while, just like the ambient watch faces do.
The app seems rather unstable, other than handful of reboots to the phone and watch that were necessary just to get it to run. Several times the app fails to respond or open up the navigation properly; according to the experts this app is not quite ready without the new version of Android wear on the watch.
The only way given to exit the map is the side button; however this would cause troubles for other devices out there that don't have a physical button.
Well the question remains, about how useful a dedicated Google Maps app on Android wear actually is. While it's outstanding to see so much functionality jammed into tiny screen on the wrist, it's although, pretty difficult to use and rather limited when compared to Google Maps on the phone.
Get in touch with us if you want to hire Android Application Specialist for your Android development project and for more information visit https://www.heliossolutions.co/mobile-technologies/android-application-development/