Android lollipop is already yesterday's news, and by the latest distribution data only a fraction of Android's community is enjoying this latest version, which means most of android loves are still in a queue to receive the latest version. However, there are minor yet few potentially important reasons why you don't need to wait for the lollipop version and can be perfectly fine with KitKat.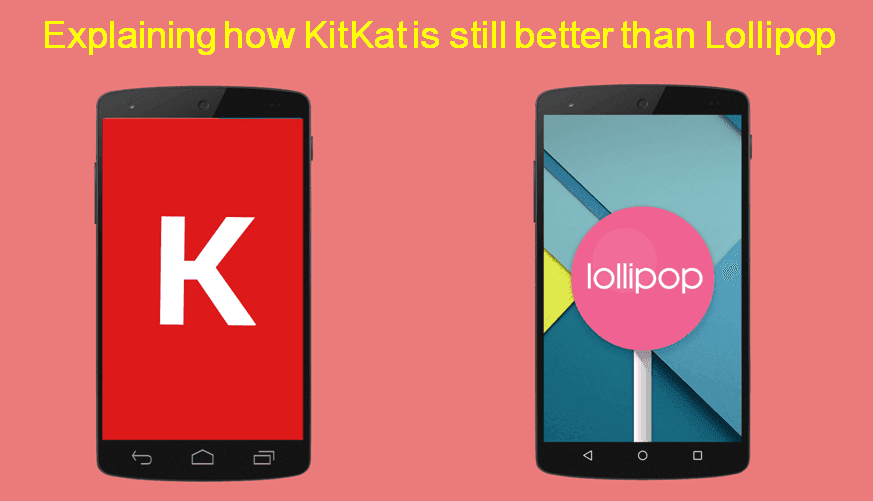 Here are few factors why:
Battery life:
The lollipop's new version promises an outstanding battery life in its upgrade; however that does not really work out in the real world.  In the test, run by GSM Arena, Nexus 5, and the LG G3, the devise actually suffered a worst battery life after an upgrade. Hence, the lease one can do is checking the benchmark of the device before pushing the upgrade button.
Multitasking better:
Google made some tweaks to the way multitasking is works in lollipop, which might not be according to one's taste. Each browser window and an open document get it more crowded and count as an extra pane, and an open app stays open even after a reboot, hence you can quickly clear everything out from the memory.
No silent mode shortcut:
One of the most senseless decisions made by Android is cutting off the silent mode shortcut mode, which was done by accessing a long press on power button that led to quickly mute the phone. Users can still mute the phone, but the process has become complicated. This feature was removed for no apparent reason.
Lock screen widgets:
Users who are a fan of the lock screen widgets might get disappointed with the new upgrade. This feature is given a chop, may be the new lock screen notification has something to do with it. However for users those rely on the lock screen widgets might want to stick to KitKat and avoid the new upgraded Lollipop.
There are several more reasons to why KitKat is still better than Lollipop.
Get in touch with us If you want to Outsourcing Android Application India project and for more information visit https://www.heliossolutions.co/mobile-technologies/android-application-development/