When you begin a business, we understand cost cutting and saving money on every level is very important. Start-up's or small businesses have to optimally utilize their resources for result-oriented work. We know being a start-up's can be one of the most of the difficult climb. We have something to share that can help with your technological, system and organizational needs. When you are just starting about to take the climb, we shall help you take the right things in your rucksack.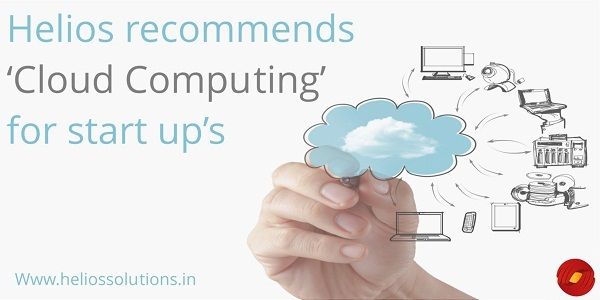 Yes, as the title rightly states 'Cloud Computing' sounds like the perfect choice for start-up companies. It is highly cost-effective and avails ease in use, storage and development. It provides distributive IT software and hardware which saves costs of the business IT structure. Cloud computing is considered as the future of the technology world helping businesses grow globally.
In a survey conducted in 2014 in EU, 42 % of enterprises who did not start using the cloud reported insufficient knowledge or unawareness of cloud computing being the main reason for them to select cloud computing. (Source: www.europa.eu). Read more about of the most preferred Cloud Computing platforms: https://www.heliossolutions.co/blog/microsoft-technologies/microsoft-tools-bettering-technology-experiences/ so that you are well-aware with what cloud computing is!
Factors that can trigger your decision to select cloud computing –
Undoubtedly  Flexible
Taking this decision could be a critical one. But your technological needs like CMS systems, future plans, basically establishment of a system is very important. The main benefit of cloud computing is the accessibility. You can access your files and data from anywhere and on any device. It is offers convenience by availing data at your disposal. And adding to it, cloud computing allows mobility and flexibility in the cloud with functions that help you in construction of an organized IT structure for your business. So you do not fall back and stay organized. Start-up's can choose BYOD, – Bring Your Own Device leading to in saving in costs.
Highly Scalable
Cloud usage provides with scalability and virtualization. It avails with an infrastructure where it can automatically scale up and down. The cloud environments are designed to in a typical fashion to suit virtualized requirements, while the traditional settings have physical as well as virtualized functionality. Thus, virtualization and scalability are much applealing features for businesses to select this platform considering the technical advantages of it.
Quality, Reliability & Continuity
Selecting cloud computing will directly mean using a platform that offers better IT services along with improved manageability. It will reduce your dependency over the internal IT structure; you can totally rely on the cloud based services. Decisions in the future like new work place or expansion of your business, it will let you easily include those into your IT structure availing security at every level. With cloud computing, you do not have to worry about assigning management responsibility; it will take care of it. It is affordable to provide redundancy websites, facilitation for businesses and continuity with excellent recovery functions. It comes with better and improved compliance with information management and security regulations.
Integration Friendly
Amalgamation for start-ups is an important function. They need to incorporate many aspects during the initial stage of experimentation to exactly know what can really work. Cloud computing is very easy yet very powerful. It offers opportunities for integration which is extremely simplified. You can integrate many cloud services and providers suiting your business needs. You can take the advantage of features like back-office functions, HR resources, accountability through such integration.
Facts says it –
"19 % of EU enterprises used cloud computing in 2014, mostly for hosting their e-mail systems and storing files in electronic form.46 % of those firms used advanced cloud services relating to financial and accounting software applications, customer relationship management or to the use of computing power to run business applications."- as reported by www.europa.eu

88 percent of organizations are using public cloud while 63 percent are using private cloud (Source: www.forbes.com
Since the advent of Internet, we all entered the fifth estate where it enabled humans with a world wide web. Now, with cloud, while your are on the World Wide Web, you are feel omnipresent. If you already using the cloud, please share your experiences and stories of how cloud computing changed the way you managed your business. This will aid in spreading awareness about this platform.
And for those who are looking to migrate to a cloud computing platform, let us help you making that decision. Selecting the right platform can be the catch here; therefore, consulting the experts would be a wise thing to do. We are an IT Outsourcing Partner India and we can help you take that journey of moving to a cloud computing platform, all you have to do is get in touch with by clicking here: https://www.heliossolutions.co/connect-with-us/ By the time you open your mail, our project managers will reach out to you.