Is your IT partner able to empower your business? Ask yourself this question if you already have an IT partner but those planning to partner with an IT company should choose wisely. As a business owner, you need to understand the importance of creating an IT infrastructure where even today many business owners fail to recognize this vertical as a part of the success for their business.
Although with the times of mobile first generation, businesses are emphasizing on IT infrastructure strategies. Now every business has technology needs, you be a service, product or a person into creation, you need to have an online presence or an infrastructure that helps you in achieving your business goals.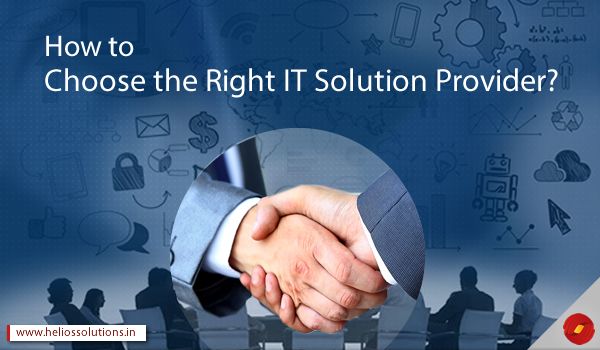 Having a good IT partner is the most important part for any business infrastructure today. Now businesses are paying much attention to all the verticals like branding, marketing and sales, but somewhere most of the businesses still lack the attention needed for their IT infrastructure, for e.g. more than 60% of the websites today are not responsive.
It is also important to make these changes in the context where you are not just making the business infrastructure worthy enough for your business but also making sure that your IT partner is giving you a robust solution and can guide you in the right direction.
See Also : 4 BENEFITS OF ENTERPRISES APPLICATION INTEGRATION FOR BUSINESSES
5 Steps to choose the RIGHT IT SOLUTION Provider
1. The Experience
An IT expert's role is to empower its clients and enable them solutions that work long term. It is all about the number of years spent in the field. It takes experience and expertise for a technology partner to provide with the right kind of solution.
You need to conduct a thorough analysis before selection by looking into details of management and the development approach. Meet your partner and see if there is a team that consists of project managers, solution architects or if there is a team hierarchy being followed while the development process and above all this, it needs to be qualitative and segmented. Look up aspects of experience and also see if you are being offered a 'Core Expert' in each segment where the expert can also act like a consultant for that segment as and when needed. For deeper analysis, you can also look into the employment strengths like whether they have a focused team concept (dedicated team delivery model). Also if they have the expertise like a Scrum Master, or Waterfall Development or Agile Experts that help you get the best in breed technology.
2. Skills & Expertise
The years of experience does not really identify with the expertise in the field but yes experience means an in-depth knowledge of the field without a doubt. What you need to be careful is to not getting reeled in by just looking at the years of experience. Make sure there is availability of supported technologies, multi-level platforms and multi-level technologies.
One thing that needs attention is identifying the difference between services and product. As the development approach changes with the change in the kind of business like service or product where services has a easy flow and development for a product oriented project will require a more stable approach.
The skills and expertise required for any development process comes from the knowledge and experience in working with a technology platform which needs to upgraded and to be kept in terms with the trends in the technology industry in order to offer most robust solutions.
3. Offerings
You need an IT partner who can offer you with complete solutions from website development to mobile development or providing you with new innovations like moving to the cloud or Big Data. If you are with me here, then you understand that we are talking about the longevity and reliability in a relationship which needs to be established with your IT partner.
The offerings should be holistic where tomorrow you do not have go to some other partner and go through the decision making of selecting right one. This can be time consuming and can affect the overall quality of your IT infrastructure. Also, you need to ensure that there is an expert for each kind of offering and your partner is not giving the project to a third party because this happens often in which case the solutions may  not be qualitative.
When it comes to offering services, it means much more than just developing a solution. We hope that your IT partner gets this bit. As there are times when you may not have an idea as to what it takes to make a website? Which is right technology? or you may have the wide idea on paper but you don't have direction for it. In this case, a potential IT partner will avail you with detailed blueprints or mock-ups for your business to have a quick overview before proceeding with the process of development.
4. Expenditure
To save on the business costs, companies globally resort to many strategies. Some even compromise on quality in order to save on costs of expenditure or due to budgetary constraints. It doesn't really make sense as you will then be spending double the amount someplace else which might not give you the desired results, which is why we mentioned earlier that one needs to understand the importance of technology and its effect on businesses.
Make sure that you choose an IT partner who is well versed with the market prices and costs and offers you with a budgetary solution but does not compromise on the quality of the development or the service provided. Generally, the IT companies in this case have an account manager who takes care of the transactions as in case of many projects that cost can vary from number of hours to the kind of project of expertise it needs.
So are you looking for a budgetary IT solution provider?  In this case outsourcing such opportunities can work wonder for you especially start-up's. Outsourcing generally offers solutions that are affordable without compromising on the quality. But you need to identify the right partner.
5. Support & Maintenance
There are many who provide with building and development of technology solutions but there are few who efficiently provide with support and maintenance post development. Now, this is the catch! It will be great if you can find a partner who ideates, develops and then supports the developed solution. In this way, you indulge in partnership with all your IT need with one partner and don't have to loiter around between two or three partners.
Here, by support and maintenance we mean immediate attention to bug fixing and required changes. Then aspects like prompt communication on the issues or requests for changes required. One most important ingredient of a good IT partner is suggesting support and maintenance as and when needed. Here, we mean that when a technology is upgraded the solution will also need an upgrade. In this case, it is the job of your IT partner to keep up with the upgrade and tell you to upgrade when its time.
Also, in case of design or advertising agencies, creation of technical documents, maintenance and support becomes the biggest challenge. For such businesses it is important to identify an IT partner who can match their wavelength in terms of creativity and provide solutions that work to establish a long term relationship. Your chosen IT partner should be able to keep up with the changes in the market and offer technical documents that a design agency or an advertising agency with minimal knowledge in technology is unable to create. Also, it will be added advantage if your IT solution provider is able to give additional suggestions on the development approach selected as the development approach varies from business to business.
Empowering Businesses
We hope the above mentioned points if not point by point but most of them are being considered before you select an IT partner. We understand as business owners it is not necessary for you to know all about technology, leave that to the experts. Save your time and money by outsourcing your IT needs to the web development experts.
We are just being a channel to empower your business. To collaborate for success with the pioneers in the IT Outsourcing India, click here https://www.heliossolutions.co/connect-with-us/ and receive our company profile on what we can offer.