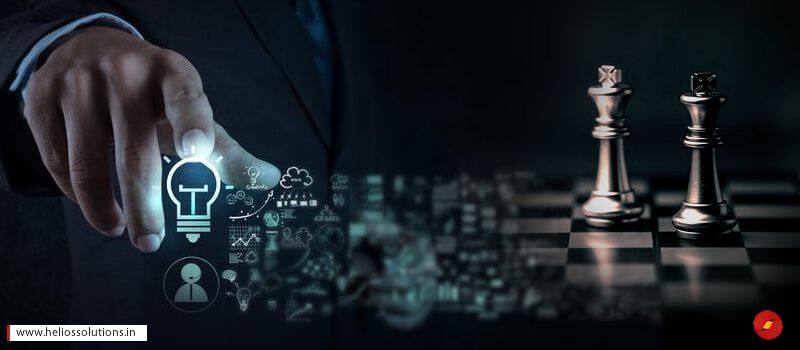 For any business, having a strategy is a must to determine the future direction in a best possible manner.  Since IT today plays an increasingly integral role in how efficiently each and every department of your organization operates, outlining an IT strategy that fit into your core business goal is essential too.
So, in today's post we would like to discuss how to create an IT strategy, what are the factors you need to consider while crafting one and so on; so stay tuned! Before we start, we assume that you already have the team to drive the strategy from start to finish or you have IT consulting partners like us.
Yes! You can leverage our IT consulting services not just to invest in a cutting edge technological solution but to make the most of your IT investments for gaining competitive advantage as a business.  
So, let's start from the beginning!
How does a strategy differ from a plan?
The key differences between a strategy and a plan that are worth noting are as follows:
A strategy is used to provide direction, action and focus to move the organization forward towards your business goals whereas a plan is used to render structure to the ideas that define your business.

A strategy is futuristic in nature and basically focuses on building a sustainable competitive advantage for your business while a plan is tactical in nature and is used to assess how viable is a business opportunity.

Also, the timeframe is a critical differentiator – strategy usually covers a period of 3 to 5+ years whereas the life-span of a plan is not more than a year.
In the words of Dave Aron, the VP and Gartner Fellow in the CIO Research group, if your strategy changes every month then you haven't got a strategy. On the other hand, if your plan doesn't change for two, three or five years then it has probably lost touch with reality.
Therefore, our team of IT consultants recommends businesses to renew their plan every year or 18 months and at the same time renew their strategy every two, three or five years. 
Want to leverage IT for building competitive advantage?

Collaborate with our IT consultants to create a winning IT strategy.
Next, we would be discussing about the Gartner IT strategy template for creating a great IT strategy for your business.
What does a great IT strategy look like?
Having an IT strategy is about how technology would enable your business to win it its target markets. In this IT strategy needs to play two key roles:
To guide the business strategy; and

To make IT deliver on the business strategy.
According to Gartner, leading IT research and advisory company, your IT strategy should include information on demand, control and supply as shown in the figure below.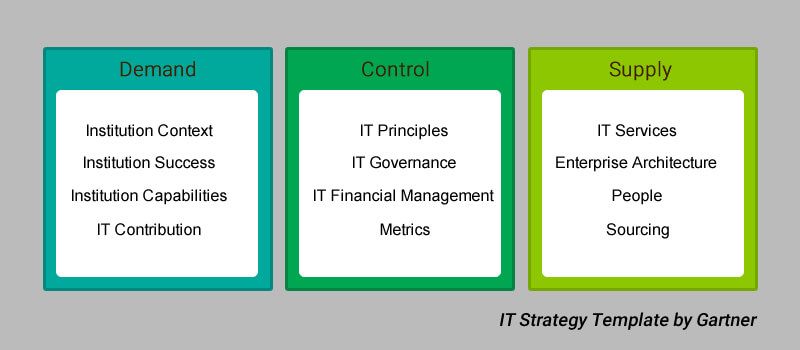 This model comprises of the following three parts which would enable you to keep your IT strategy brief and balanced.
Demand
Business context: It covers your business models, strategy, the services or products you provide, customer segments you cater to and the technology trends that are relevant to your business.
Business success: It elucidates the strategic ambitions of your business, that is "How we will win" and creating a roadmap to achieve your strategic goals.
Business capabilities: What business capabilities do you need? It is used to make a meaningful connection between your outward-facing business strategy and inward-facing organizational plans and activities.
IT contribution: Finally, how will IT contribute to the bigger picture? It will describe the value proposition of IT to your business and it should become the core of your IT strategy.
Control
IT Principles: A set of very high-level principles that can be used to drive behaviours in the organization and guide the IT leadership team and their strategic decisions.
IT Governance: It defines the decision-making rights and the accountability framework to inspire desirable behaviour in the utilization of IT and also how the IT decisions are being made strategically.
IT Financial Management: It describes how IT will be funded, the flow of finances in and out of the IT function guided by planning, cost control and allocation processes.
Metrics: What metrics will be used to measure the success of IT contribution? How do they map to your business success metrics? It is used to measure success of your IT organization which has a clear connection with your business success metrics.
Supply
IT Services: What is your IT service catalogue and what does it need to be? It covers the scope of the services and processes provided by your IT team along with their depth and breadth.
Enterprise Architecture: How is your IT infrastructure for applications, business processes, and information services? What it need to be? This is used to describe the relationship among the technology, business, applications and information services of your organization.
People: This includes assessment of capabilities of your people or skill inventory and current as well as future training needs along with critical HR processes.
Sourcing: It covers your company's approach to IT sourcing across various IT services. Whether you want to have long-term partnerships or short term transactions?
IT strategy documentation
Our experts firmly believe that your IT strategy document should at most be 15 pages with one page for each of the stuffs discussed above.
Keep in mind that you should never have a 70-80 pages document which is written once and read never. On the contrary, strategy should be flowing around the organization with everyone landing on it.
Remember, liquidity of strategy is more important than accuracy of strategy.
Focusing on the supply side is a common practice among organizations, especially on the architecture part or applications layer to be precise. A great strategy, on the other hand, should include more detail of the unfamiliar side, i.e., the demand side.
The Value Discipline Model is a very good way of looking into the demand side of your business which we would be discussing next.
The Value Discipline model
For your business to succeed in the marketplace, you must embrace a competitive strategy. In the Value Discipline Model by Michael Treacy and Fred Wiersema, three generic competitive strategies or value disciplines are described, as shown below.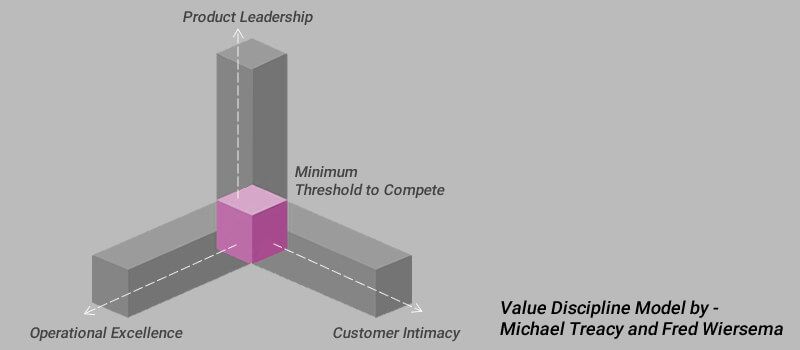 The three generic competitive strategies or value disciplines are as follows:
Operational Excellence:

This strategy aims to accomplish cost leadership through automating manufacturing processes in order to streamline operations and reduce cost.
Examples of companies pursuing this strategy include Wal-Mart, McDonald's, and IKEA.
Product Leadership:

This strategy aims to build a company culture that strives to bring superior product to the market continuously and thus achieve premium market prices for creating great customer experience.
Companies like Apple and BMW have chosen this competitive strategy.
Customer Intimacy:

This strategy focuses on providing a unique range of customer services in order to personalize services and customize products to meet different needs of target audience.
Customer-centric companies like Amazon.com have achieved market-leadership for this value discipline.
The main premise of the Value Discipline Model is that a company is supposed to choose one of these disciplines and act upon it strenuously and consistently to achieve market leadership in that discipline and perform to an acceptable level in rest of the two disciplines.
Get ready to make strategic choices
Once you have identified the value discipline for your company, you can move towards not only clear business context in your IT strategy but also clear view of business success.
And then you can start making strategic choices and true strategy is about trade-offs.
For example, if your value discipline is operational excellence, then you can choose to under invest in CRM and aggressively invest in your supply chain technology like RFID or other tracking tools.
Making this strategic choice would help you win as a business.
Need an IT strategy that works for your business?

Talk to our consultants now!
Summing Up
So, this was about creating an IT strategy for your business by having a differentiated focus.
Now, in case you have an IT strategy that worked for your business before but has become less effective now, you can always collaborate with us for IT consulting services.
How do you ensure that your IT strategy aligns with your business strategy? Please be the first to drop down your comments and begin a conversation.