Not the visual design, but the usability and the utility decide the success or the failure of a web design. For a successful and profit oriented web design, user-centric design has become the standard approach. Users are the ones who access the site; therefore if the users are not able to use a particular feature, it might as well not exist.
A well-designed web design is crucial and that makes clients decide whether to stay, browse, and purchase, before jumping to a competitors site. A cluttered and bulky website is something that drives away potential customers. Hence, a well-made website involves more than just visuals.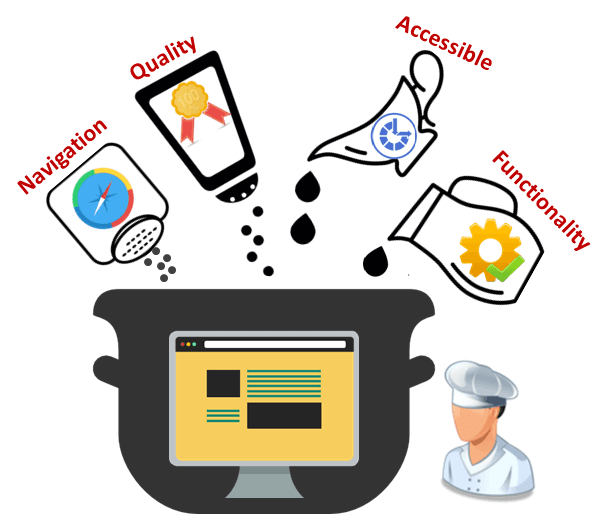 Here are few elements that make a good web design:
Quality and Credibility:
High quality content explaining the brand and its credibility is something what users are looking forward to. Providing the users with relevant information about the brand and reasons why they should even consider buying the products or services gains traffic to the website. Content is most important than the design itself for better conversion.
A clear and concise navigation:
It is important to make sure that all the important elements of the site are well placed and prominently listed. A user needs to navigate through the site with utmost ease and not get confused.  Differentiate the sub-sections clearly, include short and to the point site map, and an easy to follow navigation route. A good use of position, color, contrast and size of the navigation can all help catch the eye. It is recommended to have just one navigation bar and being consistent throughout the website.
Functionality is paramount:
A website is required to be extremely functional, meaning all its links should be working well. If the website isn't usable and easy to access, a lot of visitors will be off it as quick as a mouse. Hence, it is important to consider the end user's experience as a top priority while designing. Maintaining consistency is important, because if the style of the page changes drastically, or is somehow very different that the landing page, the visitor will lose interest and leave the site. Hence, it is important to ensure everything matches from heading sizes and typefaces to design, color and style of images.
Be accessible:
Provide relevant contact details or at least a prominent link to it at the top or bottom of every page of the website. And if for any reason the contact information changes, make sure to append it on time so the visitors can reach you whenever they decide to call.There's lot to web designing than just visual aesthetics, it's important to consider every element to make the website a success.
Get in touch with us If you want to Outsource Website Development project and for more information visit https://www.heliossolutions.co/