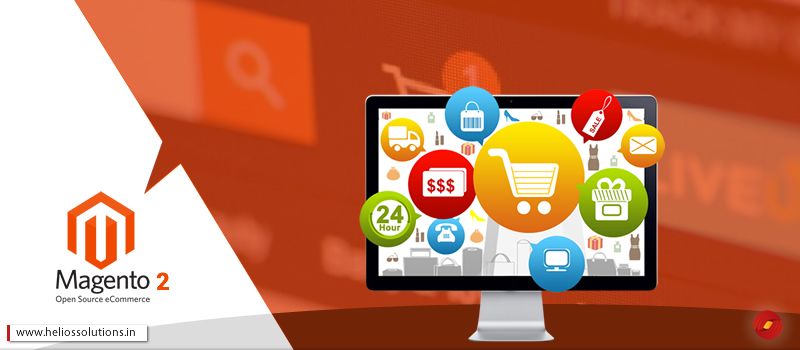 The e-commerce industry is getting more and more competitive by the day because you can leverage larger markets opened up by the Internet. Moreover, running an online store was never a piece of cake; it demands adequate planning and meticulously crafted strategies. You can compare a successful business to a well-oiled machine wherein the processes and departments could be considered analogous to the cogs. As business processes are interdependent, a strong foundation is indispensable for its safe persistence.
Are you searching for the best e-commerce platform for your online business venture? Our Magento Certified Solution Specialists suggest Magento 2 because it is way more powerful than its predecessors. It not only has an advanced development needs but also an intensive migration process.
Get the Magento 2 advantage!
Let the best e-commerce platform power your web shop
Like every other technology, Magento 2 also comes with its share of benefits, weaknesses and limitations. In today's post, we would like to outline the advantages and disadvantages of Magento 2 so that you can decide whether this software product aligns with your business requirements or not.
Advantages of Magento 2
Wondering what makes Magento one of the most relied upon e-commerce platforms? Let's find out by taking a dive into the pros of this e-commerce platform:
Open-source and self-hosted
Self hosted e-commerce platforms are those which you download and run the software yourself. Usually, these are open source platforms implying that you would have access to the source code. Example: Magento, WooCommerce, OsCommerce, etc.
When you count on a self-hosted and open source platform like Magento 2 the responsibility is all yours. However, if you collaborate with a Magento development company based in India like Helios Solutions then you can derive the benefits of this technology with convenience and within cost-effective rates.
On the other hand when you go for a hosted e-commerce platform, the owner company not only provides you with the software but the hosting as well. However, you won't have access to the source code running the software; hence it is popularly known as SaaS (software-as-a-service). Example: Shopify, BigCommerce, PrestaShop, etc.
There are various opinions about the aforementioned two different types of e-commerce softwares. However, knowing the benefits and drawbacks of each one and at the same time understanding the nature and needs of your business could be the key to make an informed decision.
We are presenting a graph depicting the market share of different e-commerce platforms worldwide in 2017.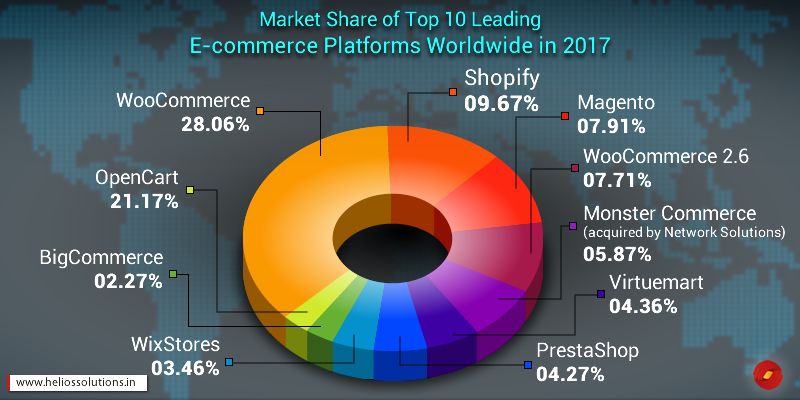 Among the self-hosted platforms WooCommerce and Magento are having the bigger portion of the pie and Shopify is leading among the hosted platforms.
Magento advantage: Here are the benefits of Magento as an open source and self-hosted platform:
You will have full control and ownership over your store and you will also know what features are on the roadmap.

You will be free to customize your store as per your business needs.

As you will be in control of your own roadmap, you will be able to optimize user experience of your store and win over your customers. Magento would allow you to integrate cutting edge technologies like machine leaning or augmented reality features to your web shop.

Maintenance could be expensive but as we said before if you partner with an

outsourcing Magento development company

, you can reduce the cost.
Get the Magento 2 advantage!
Let the best e-commerce platform power your web shop
Outstanding out-of-the-box features
Magento 2 comes packed with various exciting features which would enable you to start running your business straight away. Guess what! Even its open source version has everything you need to start a web shop and here are some of the features that you can expect out-of-the-box:
Catalog management features

SEO functionality

Marketing/promotions suite

Order management (invoicing, etc.)

Site management (CMS functionality, etc.)
That's not all; you have much more features than we have mentioned above. However, in the starting package, there is one particular part which often gets overlooked – the LUMA theme that comes with Magento 2 by default.
This theme offers optimal UI with which you can launch your web shop and begin to generatesales without even optimizing it.
In other platforms, on the other hand, once you pick the theme then you would have to get all the various features integrated to your store via extensions and add-ons. These platforms do not come with initial packaging like Magento, thus making you muck about with the setup.
Enhanced testing capabilities
When you get your site into production from staging environment, it's similar to getting trained before performing in a competition. Paying heed to minute details is the key to ensure that everything goes smooth.
The good thing about Magento is that it has a powerful testing enablement suite which can considerably reduce your pre-release defects. This in turn translates into less dissatisfied customers and even fewer bugs, thus saving your time and money.
Moreover, Magento also offers a developer-oriented testing framework based on PHPUnit called the Functional Testing Framework (FTF). Even your QA team, if you have one, would love to use this framework with a proven track record of stable performance.
Noteworthy benefits of FTF: Here's some significant advantages of FTF that you should know:
It offers pre-packaged all the standard test scenarios that shape most of the critical functional processes of your e-store.

While you run these tests, either altogether or one by one, you would find that all of the failures are logged properly and complemented with screenshots.

This cross-platform framework works across all the available operating systems, your Magento developers need not worry about it.
There are so many other good features in FTF that makes Magento partially automate the testing cycle and enhance the quality of your shaped Magento code. It's won't be wrong to say that you can fill two needs with one deed. That is you can free up your developers and at the same time make your customers happy.
SEO customization features
With so many businesses competing for the same keywords, it is a daunting task to get your e-store noticed. That is the reason why search engine optimization is a critical part of successful online businesses. Inbound leads found via organic search generally have lower acquisition costs and higher conversion rates at the same time.
With Magento you can rest assured of your online visibility, thanks to its extensive suite of SEO customization features. You can control the links that are passed on to the search engines via index management. There are plenty of other features in Magento which your SEO analysts can leverage for optimizing your web shop for search engines.
Here, you must know that it's not the standard functionality of Magento that makes it stand out; rather it's the amazing ecosystem of SEO extensions offered by different vendors that enable you to take SEO of your Magento site to new heights.
You can consult with our Magento certified solution specialists regarding which SEO extension would best align with your website optimization needs.
Allows integration of popular payment gateways
Magento 2 will let you integrate many popular payment gateways like PayPal, Braintree, Cybersource, WorldPay, etc. Thus, you can ensure that your e-store has a better checkout user experience.
Benefits of multiple payment options: With Magento 2 you can leverage the following advantages:
Increase your audience reach – Having various payment options on your web shop will enable you to deal with multiple currencies and it will appeal to a global audience.

Increase customer retention rate – Often it has been observed that

customers tend to abandon shopping cart when they do not find their preferable payment options.

Make your e-store look legitimate – Have you ever noticed renowned e-commerce companies having a single payment option? Your e-commerce business will be perceived safe, secure and dependable by your audience if you appear professional with multiple payment gateways.
Now let's take a look at the cons of Magento 2 which you would need to know before you decide to embrace this platform to achieve your e-commerce goals.
Disadvantages of Magento 2
Although Magento 2 is a very powerful digital platform, it does come with its share of challenges. We are listing down some of the disadvantages of Magento 2 below:
Longer time-to-market period
The time to market is the amount of time it takes to design and develop a product before it is available for sale. Magento demands more time preparing a store because it isn't a platform to get started with right away. So, if you just want to test your business idea then this is not the right option.
If you want to build a store that grows with your business, then Magento 2 can provide you with scalability undoubtedly. But if you launch a small e-store with few products, the Magento advantages won't be discernible and the time to market will be longer.
Heavy reliance on technical staff
It's true that Magento 2 demands advanced development skills and knowledge about the extensions that would be suitable for your store thus making you depend more on your technical staff.
Your development team must be familiar with the entire setup so that they just don't mess things up. Novice developers in the team might get caught up in the complexity of your Magento code leaving your e-commerce website vulnerable to exploits or down for repair.
However, as already mentioned before, partnering with a Magento e-commerce development company like us, you can smoothly overcome this barricade coming between you and Magento advantages.
Magento 1 extensions are not portable
In most of the cases, Magento 1 extensions will not be compatible with Magento 2 code. So if you decide to migrate from Magento 1 to Magento 2, you won't be able to port your custom themes and custom extensions to the latter. You will need to buy extensions and integrate into your Magento 2 store to enhance its functionalities.
No doubt it will add up to your costs, yet it would give you a chance to review all extensions integrated in your e-store. Our Magento developers recommend that you should install only the extensions that would fulfill your business needs in order to keep your future upgrades easy and simple.
Magento calls for investment
It's true that you would need to invest in Magento either in terms of money or time. The Magento Enterprise Edition includes rich features like:
enhanced site management;

customer loyalty programs;

improved catalog management;

dynamic marketing and management features; and

dedicated 24/7 support.
However, you must be ready to part with $22,000 per year for the license only.
Although the Community Edition (Open-Source version) is free but it will demand a considerable investment of time and some amount of development cost. Magento is a very complex and highly organized system; to get the most from this platform hire tech resources with substantial Magento development experience.
Conclusion
You would get almost everything from Magento 2 that you can expect from an e-commerce platform. In addition to extensive features, it comes with a flexible approach towards various functional problems.
If you are ready to part with pretty good sum of money then you can leverage Magento's suite of business features. It's just perfect for a business that is expanding rapidly.
Magento Commerce is a costly choice compared to its Open Source version of the e-commerce platform. Considering the meticulous logic and complexity of the system, the development of your e-commerce website might take months.
Moreover, if you fail to pick the right Magento development team for your e-commerce project then things would only worsen. We have been empowering our esteemed clients with their online ventures for more than a decade; do reach out to us with your Magento 2 queries.
What is your experience with Magento 2? Do you think the benefits offset the drawbacks in Magento 2? We would love to hear from you; please be the first to share your thoughts and ideas by leaving your comments below.