Magento is hailed as one of the best ecommerce platforms. Why not! It's powerful and out-of-the box features are highly popular among online businesses across the globe.
Moreover, many businesses including global brands like Nike, Ford, Samsung and Olympus are enjoying competitive advantage with Magento in their respective industries.
Thanks to myriads of Magento extensions that offer Magento ecommerce developers the flexibility to enhance the overall performance of your ecommerce website and business as well.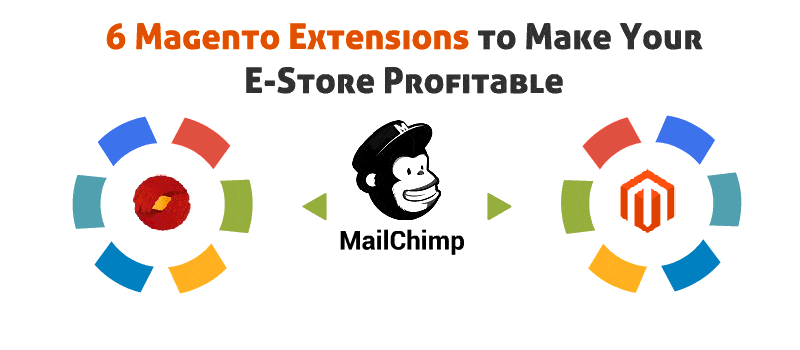 Here is the list of top six extensions that you must integrate in order to improve the functionality and user experience of your e-store:
MailChimp
Now that you have built your web shop you would need to send a very loud and clear signal to your audience about your online existence. You would need to have a marketing strategy in place in order to reach out to your audience, showcase your products, and recommend items to your e-store visitors. When customers abandon carts, you would definitely want to recapture those lost sales. How about an extension taking care of all these? Yes, MailChimp – the world's leading email marketing platform can do it all for you. And guess what? You can send up to 12,000 emails per month for free!
How does it work?
This plugin syncs your customers' details and their purchase information into its own list. It then utilizes the purchase data to send targeted campaigns along with product recommendations. It also allows you to turn on e-commerce tracking so that you can measure the email campaign ROI.
YotPo
Now just imagine your campaign efforts are bearing fruits and your store is witnessing increase in traffic. What is the thing that your visitors would search for while viewing your products? Heard about user generated content?
What is user generated content and its significance?
Any form of content such as blog, digital images or video, audio files and any other form of media created by visitors of your ecommerce site, in this case, which is publically available to your other customers is called user-generated content. Just go through the below points to understand the significance of user-generated content:
On average, a consumer spends more than 5 hours in a day on user generated content.
Businesses use this content to boost search ranking and display it to establish trust.
It helps drive traffic from social media networks and other channels.
More than 70 percent of consumers pay heed to reviews by other customers rather than professionally written marketing content.
So, don't you think you should also harness your customers' voice to drive quality traffic to your e-store? That is the reason our team of Magento development experts suggests YotPo!
How will it help?
This extension helps you to generate reviews, questions and answers, photos and other user-generated content and helps to bring traffic to your online store. It, in fact, prompts customers at optimal points in the customer journey to upload photos, ask questions and write reviews so that you can use this content to increase conversion rate and boost sales.
Product image zoom
For online shoppers, a product image indeed speaks more than a thousand words! As they do not have the luxury of physically see the items, they expect you to upload a high-quality product image. It plays a large role in making a potential buyer's first impression, the lasting one. You can enhance the user experience of your customers by installing a zoom feature. Our experts suggest Product image zoom to enable your customers to view the product image in full size.
How this plugin improve UX?
By integrating this extension you can help your site visitors to view a magnified portion of any product image by a mouse hover. Alongside the image a magnifying glass would appear and display the area on demand magnified. You can toggle the level of zoom by using the mouse wheel.
Blog
Online blogging has undeniably emerged as an effective marketing tactics because many people on the Internet are genuine content seekers! If you can satiate the thirst for knowledge of your audience or address their pain points with your blog content then they are definitely going to return to your site for more. Furthermore, it allows you to know the mind of your customers – their views, preferences and choices. You can begin a conversion with them via the comments section and your blog becomes a live and interactive medium to communicate with your audience. Here's how you too can leverage the benefits of content marketing through the Blog Magento extension.
How it increases interaction?
Well, it enables you to create an interactive communication platform wherein you can publish information about your store news, promotions of upcoming products and the most important – get customers' insights via feedbacks.
Helios Social Media Buttons
Today's consumers are net-savvy and social at the same time! Before making a purchase they tend to take opinions from friends and family. They look for user-generated content on online mediums. Even after making a purchase they like to share it with their friends and get their reviews. They expect you to provide them this facility and hence social media buttons are the norms in ecommerce websites. Helios Social Media Buttons are widely by our clients who have benefited from our outsourcing Magento development services.
How it helps you to gain social validation?
Why not talk with our experts and find it out yourself! You can also leave your contact details and our team would reach out to you.
OneStepCheckout
Most of the cart abandonment cases result from complicated checkout process. Hence, it is aptly called the culprit of shopping cart abandonment! Your customers do not like to fill forms or go through a lengthy checkout process for purchasing process. By default the Magento-based ecommerce websites come with a six-step checkout process in order to buy a product. Do you want to infuriate your customers? Do you want your cart abandonment rate to increase? We guess, it is a big NO! Therefore, being an experienced Magento ecommerce agency, we recommend our clients to integrate OneStepCheckout.
 How it eliminates friction from checkout process?
This extension reduces the checkout process to just a single step through Ajax, to the pleasure of your customers. No wonder it is widely used as it simplifies the complete checkout process and your customers can't stop loving you for that. What else? It fills the checkout forms for your repeat customers via an auto-complete feature and converts them into loyal customers.
What is your say?
Well, this was our list! We would love to know, which Magento extensions have been enabling you to make your online venture a success? Let's begin a conversation! Readers first!! Please leave your valuable comments below.