The eCommerce industry has witnessed brilliance in solutions. Magento 2 is unveiled!!!  Magento has come a long way since its commencement in 2010. As the predictions earlier this year, Magento introduced their new version to download on the 15th November, 2015 (https://www.magentocommerce.com/download). The Magento2 Development team has been celebrating its release and so are Magento developers and eCommerce gainers across the globe.
We were also among those who keenly waited for its launch since the beta phase. Since it's out, we would like the share our thoughts on its release. Magento has much in the store for everyone. It is offering an open source solution availing ever-innovating opportunities and highly flexible development techniques. Release is a big step, it will add in increasing Magento's market share.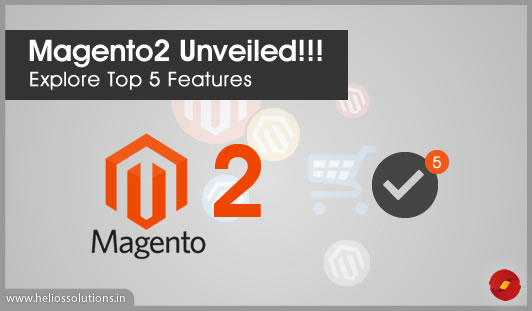 Magento 2.0 launches for exclusively for three categories:
Magento2 for Developers
Magento2 for Merchants
Magento2 for Solution Partners
See Also : Why Businesses are Outsourcing Magento Website Development to India?
What has Magento 2 got for you?
Explore the new advanced features of Magento2 and learn how it is making a statement in the eCommerce industry.
Database and Speed Improvements
Yes, it revolutionary for the eCommerce field. Those complaining about its database functions finally have sigh of relief as it offers excellent improvements in the database. This enables viewers with the most amazing features. Until now, you were stuck with one server to run the whole thing, but with Magento2, you can back-up data on different servers. You can horizontally scale out the front-end web server and add the content to the CDN with ease.
Enhanced Performance and Scalability
Magento2 is faster, better and smarter. It avails faster loading of pages which aids in keeping the customers to your website. As even short delays in loading can result in shifting to competitor's website and can affect the satisfaction level of the customers. It offers glib scalability proving useful for eCommerce owners who wish to manage large volumes of orders and enterprise-level site traffic. It offers full-page caching, and multiple user admins along with a great UX. For more info, ask the Magento Experts.
With a new architecture, Magento2 as an eCommerce platform is developer-friendly. The customized admin panel feature avails users with ease in management of content, sound and image files. You can customize almost everything with Magento2. You can change existing controllers or given instructions for new controllers. It also incorporates modularized search interface, supports XML validation, includes multi-level theme inheritance and comes with prepackaged responsive theme. All those customizable areas have default and prompted functions for speedy development processes.
Best in Code Quality and Testing
The code was revamped for bettering the open source platform.  Magento 2.0 is called as a fresh start where merchants who select this technology will get an idea that the old extensions or bad codes will be removed. The code quality has definitely improved enabling developers to easily code and add extensions. Moreover, quality is even improved with the availed testing systems.
 It offers-
 Unit tests
JavaScript Unit tests
Performance Tests
Legacy & Migration Tests
The quality testing is done at every level so that your development is bug-proof. It has also made improvements in the security features; access at various levels can be customized. Trusted by more than 250,000 businesses globally, Magento proves to be the most preferred technology for eCommerce development where with this version it is living up to its image.
Improved Payment Gateway & Backend Process
Isn't it wonderful when customers experience ease in checking out and are offered with multiple payment gateways? Yes, it leaves your customers extremely pleased. Statistics say that most of the customers withdraw or leave the website during checking out, with Magento, this is figured. You have faster and more convenient checking out process. Your customers don't have to remember their passwords, it's much simplified. If your customer log-ins, it will prompt the password which is optional again. So your customers are saved from taking tedious login procedures. Magento2 offers Third Party embedded APIs with direct post, inline iFrame which allows payment form to be hosted by Third Party and the website can also have third-party hosted payment page. Thus, your payments gateways are much sorted in the context of being able to give amazing options to your customers.
Few Figures & Facts for better comprehension:
More than 272, 992 live websites using Magento technology – (Source: www.buildwith.com)
Magento at the leading position with 25.6% share as an eCommerce platform. As mentioned in the eCommerce Platforms Popularity Study by AheadWorks, Magento Extensions.(Source: www.aheadworks.com )
(Image Source: www.aheadworks.com )
https://www.youtube.com/watch?v=w629ImDI4RM – See what Ben Marks, Magento Commmunity Evangelist, has to say about Magento2 release.
Helios is gearing up to Magento 2!
We are ready to take new opportunities and get hands-on experience in development with Magento 2 version. Our Magento team is well-versed with the technology and we are gearing to take interesting project for development in Magento 2. If you wish to upgrade to the latest version – Magento 2.0, it's just a click away: (Contact Form)
Helios Solutions is a Website Development Outsourcing since more than 12 years. We have build web solutions for brands across Europe. We support you to select your technology for development and also guide after the completion of the project, all this in the prices unbeatable! So if you are ready to launch yourself as an eCommerce platform, then all you have to do is Get a quote.
Although the frontend development is one factor that seems bland due to its blank theme in this version, the rest is all good to explore. Magento's new version has not disappointed in anyway. Backed by a huge community of developers and coders, it is made noise across the world.
If you are looking for development in Magento, then you must choose the Magento Specialists! We will make it easier for you to find them, they are right here at Helios Solutions, a Magento Outsourcing India Company. Get on board with us and sail smoothly.