Yes, Christmas is around the corner and eCommerce brands globally are making sure that they are making the most of it. Are you spending much time to figure out the right strategy for increasing your sales this holiday season? Let us help you out with the latest trends in eCommerce. Study the trending advertising & marketing methods and make your own result-oriented strategy for holiday season this year.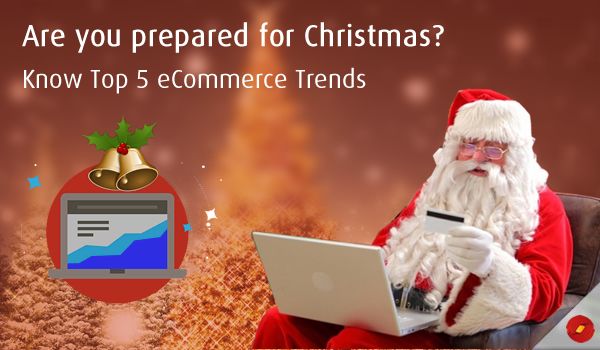 eCommerce is reaching its new highlights with brands engaging in amazing advertising campaigns with the use of multiple online and even offline channels. The connection established between online and offline channels is extensively being practiced globally; leading to brand recognition and reaching the audiences mind more effectively.
See Also – MAGENTO2 UNVEILED!!! EXPLORE TOP 5 FEATURES 
Hailing 4 eCommerce trends:
Email is dead! Still Alive!
With many customers being able to access their emails while on the go, it is easier to reach out. It is not anymore about opening your mailbox on the desktop. So as an eCommerce portal, you should be taking advantage of this opportunity.
A study published by Radicati Group Study mentioned that out of the 2.5 billion email users worldwide, 45% access emails on their mobile/smart phones whereas 36% on the desktop and 19% in a webmail client. Also, the effects of email campaigns can be very appealing as you can personalize them. Make your customer feel privileged of buying goods or services from you. It's the holiday season, customers are looking for deals, make those deals sound irresistible through creatively drafted and designed mailers. Most of the brands fail to use this tool, but as statistics say it's one of the most useful methods to re-engage your client. Sending them code, coupons or special offers through mail can increase your click through rate and land more customers to your Webstore. Also, having a responsive website will drive those using the mobile phones to access e-mails, redirect them to your mobile website. To get a responsive website, click this link: https://www.heliossolutions.co/ecommerce-services/   and consult the E-Commerce Development Specialist.
Trap them with the App
Having a mobile application for your Webstore can offer customers with convenience. Moreover, an experience that gives them a personalized benefit. Introducing special offers for those shopping from the mobile application can gain traction during this season. Consumers tend to browse on their mobile phones and later go home and buy the same product from the tablet or the desktop. The behavior of customers in web environments is turning out to be very unpredictable. Thus, we recommend a responsive website or having an application should be the solution for the IT structure of your business.
The 2015 eCommerce Trends report by www.aheadworks.com suggests that online mobile sales will grow up to 25 % this year. Thus, businesses can expect more sales if they have a mobile application for their webstore. We are pleased to tell you that we have built the most robust and pleasing mobile applications, if you are looking for one for your business in order to flourish, then all you have to do is visit this link:  https://www.heliossolutions.co/mobile-application-development/ and get the best of the mobile apps from the mobile application specialists. Offer an experience to your customer that is available for viewing optimally across devices.
Locate them, Tab Them & Please Them
Location based services is emerging as the next big thing for webstore. It is a brilliant technology to establish a link between your online and offline store. It creates that 'recall' value among your target audience and increases your reach by knowing if they are around you. Location bases services offers features that lets the businesses know what are the preference and tastes of your customers and then accordingly offer them personalized suggestions for shopping online.
For e.g. A person visits a French restaurant very often, through your location based services you understand that a customer regularly check-in's at that particular place or has an interest in French things. You then suggest may be French art or cultural gifts available or French brands for shopping to that customer.
In this manner, your customer not only feels treated but elated about his experience with your brand. You can also track if they are around you and buzz them while they are shopping.
A message like this should be convincing –
We see you are around us, why don't you have a peek in to our store? If you come in the next half hour, you get a discount of 10% for visiting your store. We are waiting to awe you, Happy Shopping!
You would take it right? These services create a sense of urgency and excitement among your customers if put across in a right manner.
Ship it for Free or Deliver it the SAME DAY
Yes, eCommerce trends this year look at faster deliveries or exclusive discounts on shipping. Many brands plan to offer free shipping deals to privileged customers. This becomes your point of attraction and increase brand loyalty among your target audience. The 'SAME DAY' delivery trend is making news in the eCommerce market. Brands are going out of their way to please customers in every possible way. It becomes important to do the same to stay in the race. But on the other hand you can charge them higher for a faster delivery or discounted prices on the same, you take! But faster deliver offers will aid in influencing your customers decision while buying anything from your webstore.
Be in the Game
When it is holiday season, brands across the world put out the most amazing sale. With online shopping you have the benefit of being accessible to your customer anywhere, anytime. Here, content plays an important role. Suggestions and blogs can be a good way to help them how they can use your products. Content plays a major role. How your pictures looks, how the clothes are styled or what combination of the bedsheet are you suggesting with the cushions and so on. This kind of suggestion in marketing results in creating trends and also in up-selling. Become the trendsetter by styling and suggesting the best of your collection.
Offer your best! Wow them or simply die.
Here, is a futuristic perspective of how B2C eCommerce sales that will give you an idea of eCommerce sales worldwide.
Source: www.emarketer.com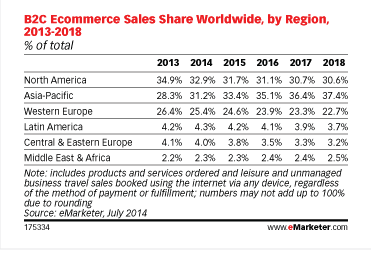 Make sure you have an amazing designer, a good copy cum content writer to make a kickass marketing team who help you tab these 5 important trends this holiday season. If you looking to integrate email services or in-built location based services in your mobile application or website, you have been reading the right blog! It comes from the eCommerce development experts who have been keeping a tab on these trends to avail you with the best of webstores.
We are eCommerce Development India and look forward to help businesses worldwide with our technological solutions at highly affordable prices. Hope you make the best sales this holiday season, for queries or suggestion, pen it down for us, we will be glad to hear from you. Now, Jingle all the way!