E-Commerce market is witnessing the biggest release of the year! Are you one of those online businesses that is looking to improve their web presence as a E-Commerce business. Then, we have the most convincing answer. Without a doubt it is Magento 2! If you are among the many online businesses whose webstore is built using Magento, then you must consider upgrading to Magento2.  If offers innovative back-ends solutions for E-Commerce websites and is specially designed for supporting the requirements of a WebStore.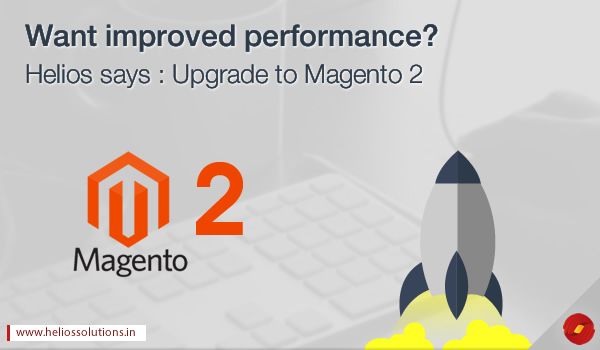 Read our review to explore the features of Magento2: https://www.heliossolutions.co/blog/magento2-unveiled-explore-top-5-features/
Being in the competition is one thing but being the competition is the real deal! It's every business's dream to be 'the competition' as that is when it gets real. Doesn't it? Coming to the point, let us understand how Magento 2 can help you be the competition.
Here, we will be exploring benefits/ improvement from:
What improvements does the Client Side offer in Magento 2?
Magento 2 is one of the most used framework for E-Commerce system but also well-known for its Content Management System. It offers many robust improvements with the upgrade. The following are the Client Side benefits with Magento 2:
JavaScript Optimization
Optimization for minimizing and bundling
E-tags feature for controlling browser caching
Improved caching for languages like CSS, JavaScript
Better Caching for static images also
What improvement does the Server Side offer in Magento 2?
Magento 2 has much in store for Server Side, offering special benefits for Microsoft users(MySQL). If you are looking to develop Magento on a specific server, then you should educate yourself of the benefits that it is offering with the new version. The following are the improvements with Magento 2:
Integration of Apache Varnish 4
Provision of support for MySQL clusters
Creation of custom and standalone databases for subsystems – catalogues, checkout and order management features
Why Magento 2 is the best?
The framework network has mentioned estimates which say the homepages on the new platform will load 53% faster while category views will load 51% faster.
The viewing experience will be elated as users will also notice faster loading of specific products and add items to their shopping carts.
Magento offers two services: Magento Community and Magento Enterprise which is very useful for Magento specialist, Magento Development or E-Commerce Development.
It is most complete open source solution available in the market of E-Commerce open source technologies
It shares 26% of the E-Commerce market as a technology for webstores.
There are more than 5000 extensions available in the market for Magento technology backed by a huge community of Magento developers.
As it based on the MVC structure, it is easy to maintain code for Magento Specialist
Around the world, the top 1 million websites use Magento technology as the solution for CMS or E-Commerce platform.
We are Magento Certified Solution Specialist!!!
We are certified and we are in full-gear when it comes to expertise in Magento framework. You happen to click the right link if you looking for a E-Commerce Development Specialist. We are Outsourcing E-Commerce Development India trying to help businesses across the globe with our system solutions. Adding to our certified team of Magento developers, you are also benefitted with project managers who will talk to you in your native language, isn't it amazing!
Magento has come the long way and if you wish to go the long way, upgrade to the new version by letting us make it happen for you! We are not just certified but we are evolving keeping in par with the technology. Make your online business a little more convenient and appealing with our solutions.