According to the data given by IDC (International Data Corporation), Mobile applications will somewhat generate an indirect revenue around $57 billion and number of application installs will cross the figure of $210 billion by 2020.
If we look at the tally of previous year (2015), the revenue generated by applications was somewhere around $34.2 billion, while approximately $156 billion applications were installed worldwide.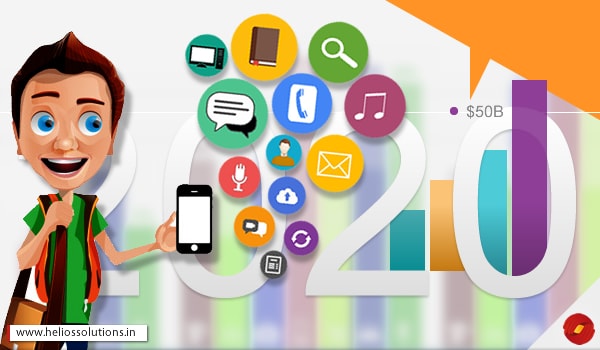 Meanwhile, IDC has also urged that market will drop its pace a bit in the near future. "IDC expects that as the market matures, install volumes and direct revenue will slow, even as the total number of app downloads increases between now and 2020"
It is believed that over the period of 5 years, mobile application install volumes are likely to fall to single digits at CAGR (Compound Annual Growth Rate) of  6.3%. Meanwhile the direct revenue generated by mobile applications will drop to CAGR of 10.6%.
Apple's App Store on the other hand is solid as ever. In 2015, it captured 58% of the market share, as the company generated the most revenue, with 36% more years over year. However Apple also took a hit at its global applications install  that however dropped 8 per cent, to 15 per cent.
On the other side of the story, it was Android with majority of install volumes around 60% in 2015, compared to Apple's 15%. The difference was clearly by the number of Android-Based devices in the market. Android generated a revenue of 36% in the previous year.
The competition between Apple's App Store and Google Play has been fascinating over the years. Both the companies have tried capturing the majority of the market share, with number of applications to offer to their respective user base, each and every day. Mobile Apps Development Specialist from both the platforms have seen the number of applications getting installed and uninstalled over the years. This is due to the competition generated by both the companies.
But these gains in the growth of market share saw a drop and the revenues were slower than previous years, with Apple expected to surpass Google Play when it came to generating revenue.
Now to add further, IDC (International Data Corporation)  did not mention ad revenue in its forecast and figures. According to John Jackson (research VP, mobile and connected platforms) and I quote "A change will be seen in the coming years that how mobile users will interact with applications versus social and other mobile ecosystems".
He also said, "Google and Facebook will continue to dominate mobile ad spending, thanks to the scale and sophistication of their network effects".
Facebook's recent incorporation of news and other content feeds into its user experience, traffic and install volume are likely to gravitate toward those platforms — and away from downloaded apps of other kinds — Jackson said.
The above statistics clearly shows us how vastly mobile applications will grow by 2020. If you are someone who wants to build a Mobile App and are confused enough as to how make one, Helios Solutions is the answer to all your questions.
We have a team of Mobile App Development Experts, who can craft the best mobile applications as per your desire and requirements. We won't just help you to make a better App but our team will make sure you get the best of the best in every aspect. Our team of Mobile Developers do not follow a monotonous path; we believe in learning more and more everyday and we try exploring different possibilities to make things better for you anyday.