There is no doubt that our world has seen a remarkable change in Technology over the years. Not to forget the Societal and economic changes that has happened over the years. 2020 isn't that far and there are some trends that are waiting to reshape the way you'll do business in the near future.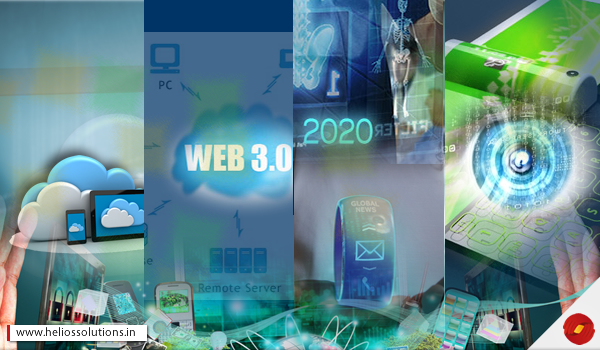 Here we have listed out 5 notable tech trends that will change the way you do business in 2020.
Cloud Computing:
Basically cloud computing means, storing and accessing data over the internet instead of your computer hard drive. In simpler terms, the cloud is nothing but a metaphor for internet.  Stats say that the Global Cloud Computing market will see an increase of 592%, certainly growing from a USD 40.7bn to a USD 241 bn market by 2020.
Cloud computing has its own reasons to grow and the factors driving this growth are as follows:

The processing costs are falling at an increasing rate and that has helped the cloud to rise

There is decline in the computer cost by 33% annually

 Storage costs has seen a decline by 34%
 27%  decline in the bandwidth cost
 5% decline in the smartphone cost.
WEB 3.0:
The internet before 1999 was called "Ready Web" by the experts. Web 1.0 and Web 2.0 offered crucial things to their generation but to understand Web 3.0 you must know what Web 1.0 and 2.0 had to offer.
The average role of internet user was limited to reading the information that was presented to him. Web 1.0 allowed the firms to put brochures on their websites and removes the geographical restrictions for those with brick-and-mortar business.

On the other hand Web 2.0 was based upon the user communities and services. Social networks, blogs and Wikipedia that really encouraged collaboration and exchange of information.

Web 3.0 will see everything connected, be it anywhere and say all the time, over the cloud. Everything we know and use will have its own IP addresses for example cars, refrigerators, clothing etc. Software Development Specialist will have their moment to ride along with Web 3.0 and bring in the necessary changes as the technology evolves further. 
That surely makes Web 3.0 a notable trend we can't really wait for in the near future.
All about Mobile
Mobile phones have been the most dominant force in technology over the years. Consumers have shaped businesses over the years by their usage and demands that have marked constant change in mobile technology. We have seen operating systems, where they have been re imagined and also transformed over the years. With Android having the most of the market share about 61.92% and Apple iOS 28.42% as of 2015 Q2, they have crushed the market share of Windows phone down to 4.3%
There are 3.4 billion internet users as off 2016. The highest growth of segment has been emerging in China, which has 563 million mobile users in 2016. That clearly states that 80% of users in China are mobile centric.
The stats are nothing but a clear indication that mobile phones will dominate the near future as well .
 The Wearable Tech
As of 2015, 39.5 million US adults, 18 and over, used wearable devices including the smartwatches and fitness trackers- clear increase of 57.7 percent over 2014. Surely the next transition from mobile internet computing will be the wearable techs, which began in 2014 with Google Glasses.
Wearable techs have their own benefits like:
They are hands free, voice and gesture controlled.
They are always connected to the internet so that you really don't miss out on things.

Built in GPS to create environment awareness.
These are certainly some of the Highlights of 2020. We shall witness greater technological changes in the coming years that would certainly change the way we live and do business. The growth isn't really slowing down and it has its pace with the right momentum.
Is your business ready enough for these changes?
Here at Helios Solutions, we offer a great help when it comes to WEB 3.0 or Cloud computing. Even any Mobile App Development Solutions, that requires the utmost perfection. So, if you have a Business that needs an overhaul or need any Business Solution, we are here to help you with the same.